Quest for the Cure
Join us in our QUEST FOR THE CURE. In support of Alzheimer's San Diego, QUEST FOR THE CURE asks you to join us in our dream of a world without Alzheimer's disease. QUEST FOR THE CURE is lead by Alpine View Lodge, a Walk4ALZ top team. We see first hand the impact this disease has on the person afflicted, those that love and support them and the community that struggles with the devastation. In advance of the annual WALK4ALZ held at Balboa Park each October, our team – QUEST FOR THE CURE co-sponsors a series of events to raise funds for Alzheimer's San Diego – the heart of Alzheimer's Care and Cure.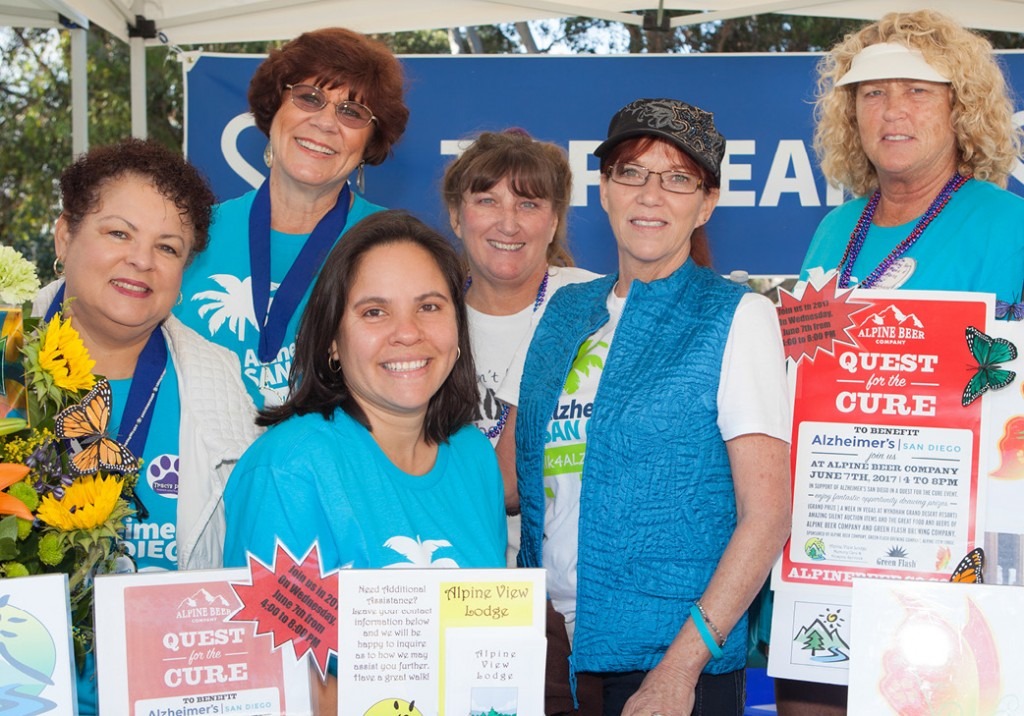 SAVE THE DATE: June 7, 2017
4:00 to 8:00 PM  – Alpine Beer Company
Mark your calendar for our second annual QUEST FOR THE CURE event at the Alpine Beer Company Pub in beautiful Alpine. Our co-sponsors Alpine Beer Company and Green Flash Brewing Company will be serving up all the great foods and brews from these two craft breweries. Our event includes a live auction, silent auction and amazing raffle. This event gives your family, friends, co-workers and fellow professionals a fun and exciting night to enjoy together. And know that every dime that we raise in San Diego – STAYS IN SAN DIEGO to help fund programs like Collaboration4Cure – supporting research at our own top flight research facilities and to fund Alzheimer's San Diego many programs of support to those affected now with the disease and those that care for them.
Maybe you will come for the brews and food, maybe for that chance to win a week long vacation in the Southwest or weekend in Palm Springs in our raffle. Maybe you'll have the winning bid at our silent auction for great seats at a Padre game and signed jersey and baseball or an overnight stay at Lions, Tiger and Bears or resort and spa package, just to name a few. Perhaps you'll just hang out, laugh with friends and know that your helping us to find the way to a world without Alzheimer's disease. You'll come for your parent, aunt or uncle, co-worker, friend or that someone else special who has been touched by A.D. You'll join us in our QUEST FOR THE CURE as we come together to fight for our futures and the futures of those we love and for those who have perhaps lost the battle in the past. Let's be part of the process of creating the FIRST SURVIVOR OF ALZHEIMER'S DISEASE. We hope to see you, your family and friends June 7th at Alpine Beer Company Pub. Join us for a lovely summer night on our QUEST FOR THE CURE.