Honor a Loved One with a Tribute Gift
Set-up a Tribute Web Page
Celebrate the life of a loved one or recognize occasions, such as birthdays, weddings or anniversaries by creating a personalized Alzheimer's San Diego Tribute Web page.
With the help of our team and our easy web page creator, you can create a tribute page with a personal message, photos and a link to a personalized donation form that collects gifts in honor of your loved one or special occasion.
For more information and to get started, contact Lori Schick at 858.966.3310 or follow the easy steps below. 
4 Easy Steps
1. Click on "Create Page"
2. Click "Become a Fundraiser"
3. Set-up/personalize page:
Title the page after your loved one
Update fundraising goal
Upload photo of loved one
Add personal content about your loved one
4. Share your page!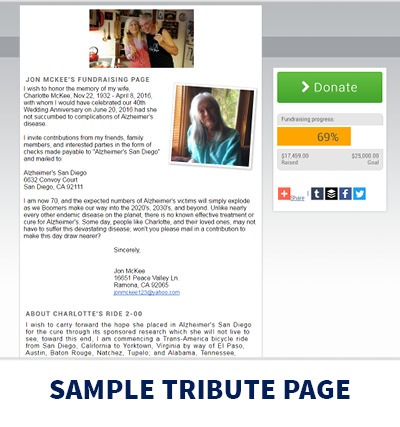 Donate to a Tribute Page
Click below to see a complete list of all active tribute pages. Make a donation, leave a comment or just check them out!
Rather Host an Event?
Do you have an idea for a great fundraising event? Use our peer-to-peer online fundraising system to get the word out to your friends and family, and give them the opportunity to make an online donation to support your efforts.  For more call 858.966.3300 or click below.
Order a Tribute Wall Tile
We invite you to dedicate a tile to honor someone who is living with Alzheimer's disease (or another dementia), or memorialize someone who has passed away. Creating a simple yet permanent tribute to a friend, colleague or loved one will not only keep their memory alive, but also enable our organization to carry out its mission to serve the over 62,000 San Diegans who are living with Alzheimer's disease today.
There are two tile sizes:
a single tile (4" x 4")  is $500
a double tile (4" x 8")  is $1000.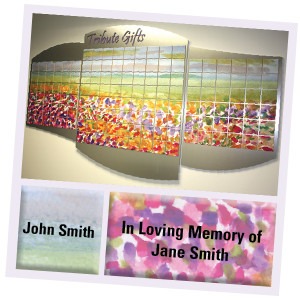 Order by Mail
Print the paper order form & mail to: Lori Schick
Alzheimer's San Diego
6632 Convoy Court
San Diego, CA 92111
Please complete your order as soon as possible and provide the exact name of the person in remembrance; this will be a one-time offer as  less than 30 tiles remain. For questions, please contact Lori Schick at (858) 966-3310 or lschick@alzsd.org.