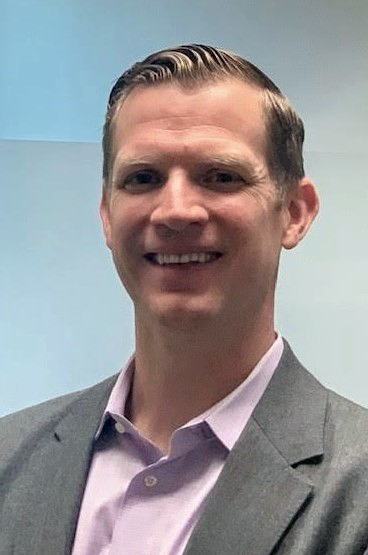 By Marci Martin
Derrick Walsh has enjoyed a 15-year career in the finance field.  As a steward of corporate financial well-being, Derrick understands the level of support required to uphold his clients' partnerships.  But when it pertains to Alzheimer's or dementia, Derrick readily acknowledges the disease demands a different level of caring – something he came to discover at a very young age.
It's his personal experiences with his grandparents that drove his passion to get involved with Alzheimer's San Diego.
"I had two grandparents who were extremely influential and important figures in my life: my mother's mom Nana Ingrid, and my father's dad, Papa John," Derrick explains. He grew up in southern New York, and recalls many fond memories devoted to his maternal grandmother. "My time spent with Nana Ingrid are some of the strongest memories I have from my childhood."
RELATED | Learn more about the FREE services Alzheimer's San Diego provides
What makes these memories so special for Derrick is that Nana Ingrid never got her driver's license.  So, this presented Derrick and his three siblings the opportunity to each spend one-on-one time with her by way of city bus rides.  Some of his visits with Nana Ingrid took place at the local mall.  Nana Ingrid would spoil Derrick with gifts, clothes or top brand shoes his parents declined to expense.
"We would eat at the food court and then go to the candy shop.  At night, back in town, we would walk down the street and eat pizza.  I could never get enough pizza," he says.  Sometimes during those special visits, Derrick and his Nana would go to the theatre to watch the latest movie or return home so she could catch her favorite evening game show – Wheel of Fortune.
During his mid-teens, Derrick recalled how his Nana began to show signs of memory loss.  It was a long progression of memory and physical decline.  She would later be moved to assisted living, then ultimately transitioned to a memory care facility.  "Eventually my beloved Nana Ingrid could no longer recognize me, and would pass away from the disease," Derrick says.
His Papa John was another beloved member of the family.  Derrick revealed that his paternal grandfather was quite the character.  "He was often inappropriate, yet hilariously funny," he shares with a smile. Derrick remembers all the fun his family enjoyed in his grandfather's expansive backyard.  "Papa John had a pool with a twisting slide my siblings, cousins, and I would enjoy with him," he adds fondly.  Papa John lived with Alzheimer's for two years before passing.
Because of his personal connection to the disease, Derrick is passionate about his work with Alzheimer's San Diego. He joined our Finance Committee five years ago, wanting to become more involved. Eventually, he was invited to join the Board of Directors in the role of Treasurer.
"I had the pleasure to see the team at Alzheimer's San Diego continue to successfully grow the organization in services provided, such as Memory Screenings and Coping with Caregiving," he says.
Derrick is also proud of how Alzheimer's San Diego has supported local research through partnerships like Collaboration4Cure. Led by Alzheimer's San Diego, C4C brings together the City and County of San Diego, local biotechnology research institutes, physicians, and private benefactors to award grants to research projects working to cure Alzheimer's.
"While there have been challenges, and as with any good thing, changes, the focus and commitment of the team at Alzheimer's San Diego has been steadfast and determined in serving those suffering directly or indirectly from Alzheimer's, dementia, or related diseases," Derrick says proudly.
RELATED | Alzheimer's San Diego Board of Directors
Serving on the Alzheimer's San Diego Board has given Derrick a broader understanding of the disease, and its impact to families.  "At every Board meeting, we have what we call our Mission Moment," Derrick notes.  "A staff member will share an update on a program or service offered or relate a story about a recent attendee at an event."
One such moment had a huge impact on Derrick. "I fondly remember meeting Jon McKee and listening to his story about his wife's struggle with Alzheimer's," Derrick says.  "I was struck by Jon's ability to release himself from the loss of his wife with a bike ride fundraiser across the country, and how Alzheimer's San Diego was able to be a beacon of light during those chapters in his life."
"I count myself blessed for the opportunity to serve on the Board. It has only furthered my desire to support the over 84,000 people in San Diego afflicted by Alzheimer's," he adds.
Derrick also puts his time and treasure into supporting Walk4ALZ.  His team is called AXOS BANK.
"I've organized the team for about 5 years now, and Axos has been a great contributor through my team," Derrick shares. He offers some tips for other teams looking to enhance their Walk4ALZ fundraising. "I provide my story of personal connection to the disease and include new friends and contacts that I've made throughout the year in my communications about Walk4ALZ. You don't know everyone's full life story – they may have a connection to the disease that you're not aware of."
Another fundraising tip Derrick shared for Walk is to provide donors with a breakdown of their past support.  "I've found it helpful to reach out to my larger donors individually and include a listing of their historic contributions", he says. "This typically ensures they will at least match their prior year contribution."
Walk4ALZ 2020 | Click here to sign up for free
It's never too late to start your own Walk4ALZ team.  "Jump in and help make a difference," Derrick encourages. "If you have had even a single thought about starting a team, then something inside you (or an angel on your shoulder) is telling you that you should." For those concerned about getting enough support, Derrick offers this advice: "Don't be afraid that it will be too much work or that you won't get enough people to join you.  I've had years where I only had a few people donate or walk with me.  But each year, regardless of whether I have 5 or 50 supporters contributing/walking with me, I have finished the walk knowing that I am helping to change people's lives."
"Walk is a great way to connect with others, make a difference in the community, and of course enjoy a stroll through one of the most beautiful and historic areas of our city in Balboa Park," Derrick adds.
In his new role as Board Chair, Derrick shared some of his goals for the 2020-2022 Board of Directors.
"In recent years, Alzheimer's San Diego has expanded upon its services and support of the community, such as free memory screenings, and first responder trainings," he says.  "We will of course continue to provide these great services to the Alzheimer's community. Additionally, we will be utilizing other organizational methods to further develop our strategic plan and vision for how Alzheimer's San Diego will continue to be a positive impact and true difference maker in people's lives."