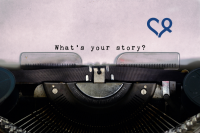 Alzheimer's San Diego is fortunate to work with hundreds of active volunteers and interns. Thank you for donating your time and passion.
We are excited to announce the winner of our second annual Volunteer Storytelling Contest: Jenevieve Rodriguez!
This year, the prompt was: How have you found meaning as a volunteer during the COVID-19 pandemic?
Jenevieve's story was featured on CBS News 8. Watch the video and read her winning entry below.
Unexpected Friendship
By Jenevieve Rodriguez

As a student fresh out of college from half a year of Zoom University, I was at a standstill for the first time in my life. The pandemic took away internships and job options for the summer, so I was left unsure on my next move. I moved to Los Angeles in May of 2020 to live with my long-distance partner, who had a job there. That summer consisted of hours watching shows, occasional calls with friends and family, but most of all, staying inside. Like many people during this time, my days were listless and isolating without work, living in a new city I could not go out and explore.
I decided to see what opportunities were available virtually and came across Alzheimer's San Diego. I was paired up with Jim, a retired college dean with dementia. As many other older adults were experiencing during that time, Jim was feeling isolated at his home, so his daughter signed him up for this virtual companion program. Since we are in two entirely different cities, we communicate via biweekly phone calls.
Jim and I share a 60-year age gap, and I was initially unsure how well we would communicate. But to my surprise, we have so much in common and so many different topics we are able to resonate on. In my opinion, our relationship is the perfect match: a dean who loved to mentor undergraduate students and a student at a crossroads who needed mentoring. He has years of advice to give regarding switching career paths, pursuing higher education, and living a fulfilling life in general. We engage in multiple conversations pertaining to both of our journeys, and he always asks how my life was going at the beginning of every call.
One fond memory I have was when I had a rough day at work, and during our call, when he asked how I was, I let him know how I was feeling. He listened and responded with how we all have our days when we feel down and proceeded to switch our topic to this local ice cream truck that went through his neighborhood when he was a kid. While it may have seemed like an abrupt change in our conversation, it was a change in pace I needed at that moment. He talked about how the ice cream truck used to have its song play through their neighborhood to alert the local kids to come out and buy some. I was able to reminisce and tell him about the times I would get ice cream with my dad and older brother from the local ice cream man who pushed a cart with a bell around my grandma's neighborhood. I was able to remember fond memories of my childhood and forget about the stressful day I had. And for that conversation, I am grateful to him.
While we do talk a lot about our lives and our everyday activities, our most talked about topic is about birds. More specifically, we discuss the book he is writing about his relationship with a Red-tailed Hawk named Hark. Over 40 years of his life, he had conversations with Hark in a canyon near his house, which he documented on paper. Although he would sometimes forget and repeat pages back to me multiple times, he reads me pages from his book that I help type for him and send along to his daughter. We have deep discussions and delve into the lessons Hark taught him, such as learning to live in the moment and leaving room in our lives to nourish our spirits. Many lessons through him I've been able to apply to my own life and have helped me navigate my current career path. These fulfilling conversations have helped shape my outlook on life and have become something I look forward to every week.
WATCH | Jim's reading about Hark the Hawk
I signed up for this volunteer position thinking I was helping someone during these isolating times. But what I found was a meaningful relationship that helped me through uncertain times. We love to joke about how we are able to connect on so many different levels even though we have a 60-year age gap. And although there are times he is forgetful and loses track of our conversations, I am honored to call him my friend.
I never expected to find a friend. But I guess it's true when people say you find things when you least expect it.
Click here to learn more about current volunteer opportunities >>