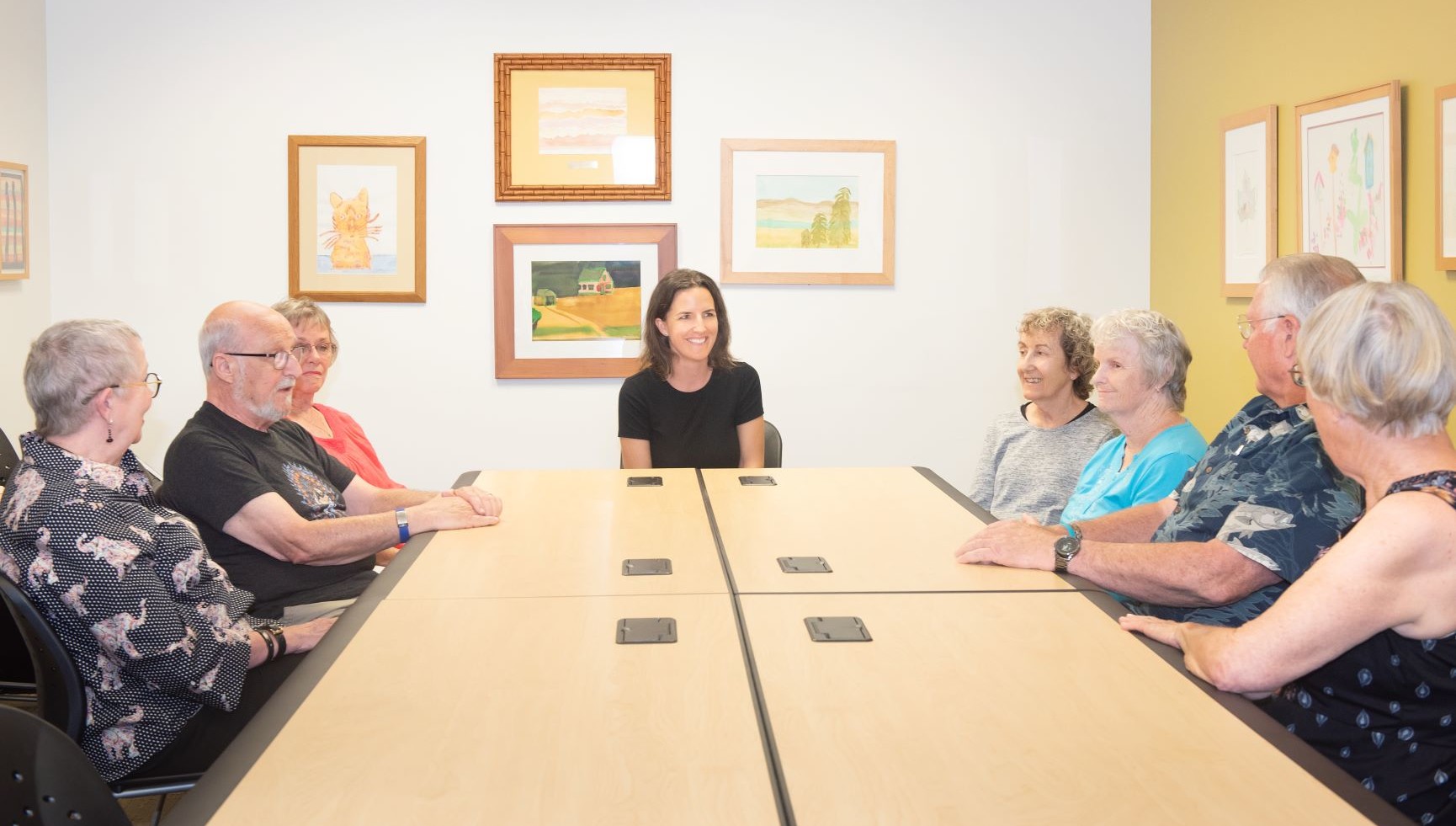 *Due to the COVID-19 pandemic, all support groups are currently being held via Zoom.*
Our support groups, led by trained facilitators, provide caregivers with the opportunity to discuss caregiving challenges, share your feelings, and gain emotional support. Talking with people who are going through similar situations and who truly understand will help you feel less alone as you confront the many challenges of caregiving. Our goal is to provide a safe setting which promotes mutual support, both practical and emotional, throughout the course of the disease.
About Alzheimer's San Diego Support Groups
Groups are emotionally-focused.
Members are encouraged to attend as many meetings and groups as they like to feel best supported.
Meetings are offered 6 days a week, at various times – and are 100% confidential.

Groups are flexible. Feel free to attend when you can.

For now, all groups are being held virtually using Zoom and can be accessed from this webpage. If you would like to schedule a Zoom practice session, please call Ellen Boucher at 858.966.3305. In the future, we plan to resume in-person meetings across San Diego County.
Groups are always FREE!
Support Group Guidelines
Be respectful and kind to your fellow members.

Give everyone a chance to talk.

Support each other by sharing your experiences and your feelings.

Speak in reference to yourself. For example: "In my experience…" or "I feel…"

What you hear and discuss is to be kept in confidence.

For virtual groups: Please keep your microphone on mute unless you are speaking to avoid distracting background noise. Try to log in a few minutes early to test your connection.
When will Support Groups meet in person?
Due to the fact that we serve high-risk individuals, Alzheimer's San Diego will continue to require masks and social distancing at all in-person, indoor gatherings for the foreseeable future.  Due to the social distancing, not all locations will have the space needed to meet at this time. As a result, support groups will continue to meet virtually via Zoom. Support Group Coordinator Ellen Boucher will contact you when that changes. To participate in an in-person group, volunteers and attendees must fill out a signed waiver and email it to Ellen at eboucher@alzsd.org. Click here to download the waiver >>
What are my options if I cannot attend a support group meeting in person?
Alzheimer's San Diego will always have virtual support groups available for you to attend. Please call Support Group Coordinator Ellen Boucher at 858.966.3305 to discuss options of virtual support groups for you to choose from.
Join a Support Group
Watch this video for step-by-step instructions of how to sign up for a group.
You can find a list of support groups currently being held virtually in the calendar below. Groups meet using Zoom, which is free and easy to use. Simply click the meeting name to learn more and to register for the group. Here's how to get started:
Once you register, you will be emailed a secure Zoom link to join the group.

You will receive a confirmation email which will provide a link for future meetings.

The group leader will ask you

for contact information so we can send email reminders.
You can also attend the support group meetings by phone, and accessibility tools are available. Please call us at 858.492.4400 for more information.
If you would like to schedule a Zoom practice session, please call Ellen Boucher at 858.966.3305.
Client Testimonials
"I wouldn't be surviving without my support group."
"Knowing I am not the only one going through this has helped me so much."
"I have learned so much from my group leader and from other people's experiences."
"No matter what I say or feel, my group accepts me as I am."
Observation Policy
To protect the integrity of our groups, no observation or presentations are permitted without approval. To discuss further, call the Support Group Coordinator Ellen Boucher at 858.966.3305.
Become a Support Group Leader
Interested in becoming a group leader? Alzheimer's San Diego provides training, materials and ongoing support for those interested in leading a support group in their community. Call Ellen Boucher at 858.966.3305 for more information.