Volunteers are the key to our success. Whether you're interested in staffing our reception desk, facilitating a support group, helping out at our events or in another role, there is a place for you to contribute in a meaningful and impactful way. You can check out available opportunities below. For more information, contact Adrianna McCollum, Volunteer Manager at 858-966-3296 or amccollum@alzsd.org.
Interested in a position? Apply here.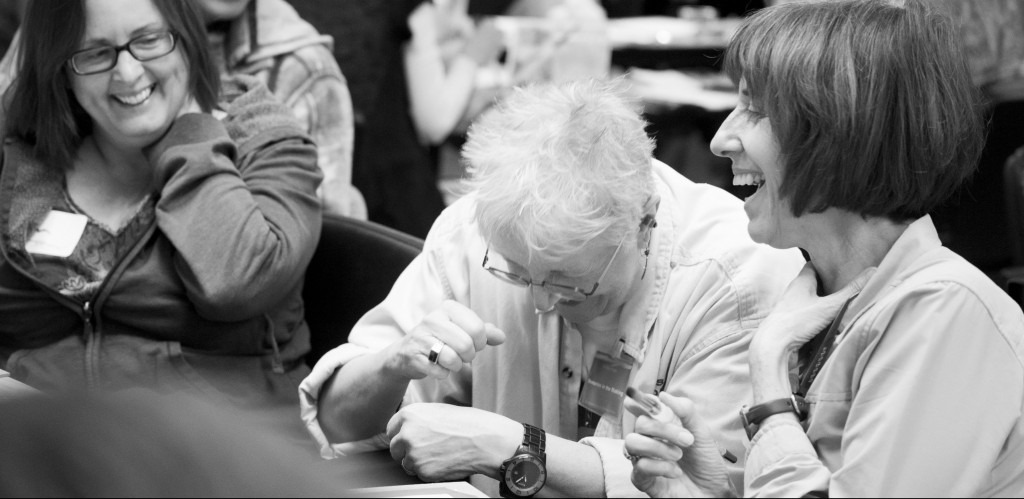 Companion Volunteer
Companion Volunteers provide in-home breaks to caregivers in the form of social visits with their loved one who has Alzheimer's disease. Volunteers do not help with any physical or personal care. Volunteers spend time with individuals who have dementia to provide:
Companionship – encouraging reminiscing about the past or enjoying a movie together

Socialization – engaging in activities such as games, listening to music or gardening

Supervision – ensuring their safety while their caregiver is absent
Time requirement: Minimum 6-month commitment; approximately 4 hours per week.
Qualifications: Must have excellent people skills, such as being caring and patient. Experience working with persons with dementia a plus, but not required. Training is provided. Minimum age requirement is 18. View flyer for more information.
Education Assistant
Provide assistance with Alzheimer's San Diego education classes, workshops, conferences, health fairs, special events and more.
Qualifications: Excellent individual and group communication skills, and outgoing, enthusiastic and warm. View flyer for more information. 
Marketing Volunteer
Help create meaningful content about our programs and the people we serve across multiple platforms.
Qualifications: Excellent writing and communication skills, strong creative writer and experience with social media and WordPress.
Office Assistant
Assist staff with administrative tasks needed to keep our offices running smoothly, including special projects, mailings, phone calls, data entry and more.
Qualifications: Must have weekday availability between 8:30am – 5pm. Basic computer skills are needed for most projects. Minimum age requirement is 16.
Receptionist
Our volunteer receptionists are the first people our guests encounter when they walk through our doors. Help us greet them with a warm smile and positive energy. Our receptionists also answer calls, directing them to appropriate staff, as well as assist with the lending library and work on small projects as needed.
Qualifications: Must have weekday availability between 8:30am – 5pm. Great customer service and basic computer skills. Experience answering phones a plus, but not required. Minimum age requirement is 16.
Special Events Assistant
Alzheimer's San Diego holds fundraising events throughout the year to raise critical funds and awareness. These events range from small receptions to large galas. Volunteers are a crucial part of the success of these events, by assisting with setup, greeting and registering guests, and other event logistics. Events are usually held in the evenings or on weekends.
Qualifications: Must be enthusiastic and have evening and weekend availability, as needed. Minimum age requirement is 16.
Support Group Facilitator
Become a support group leader and help provide much-needed emotional support, coping skills, education and resources to caregivers. Support groups are located all throughout San Diego County and offered at a variety of times/days. Help us create a community of strength and support for caregivers who are coping with the stressors that accompany living with Alzheimer's disease and related dementias. Training and on-going support provided.
Qualifications: Personal or professional knowledge/experience with Alzheimer's disease or a related dementia. Students and interns ok. Minimum age requirement is 18.
Walk4ALZ is our largest fundraising event of the year and we rely on our dedicated and passionate volunteers to make it a success! If you are interested in volunteering at one or both of our Walks this October, please fill out our online application.
For more information about volunteer opportunities please contact Adrianna McCollum, Volunteer Manager at 858.966.3296 or amccollum@alzsd.org