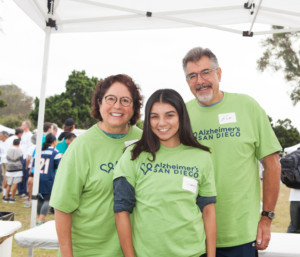 Donate
You can make a difference today. Your generosity will have a direct impact for families living with Alzheimer's or dementia.
Volunteer
Alzheimer's San Diego has over 300 volunteers who participate in the work of the organization in a variety of ways. Are you looking for ways to give back and contribute your time in a meaningful way?
Share Your Story
Help To Further The Cause – Share Your Story! Let's get out of the shadows… raise your voice about Alzheimer's disease!
Become a Partner
Our corporate partners make it possible for us to offer help and hope to the thousands of families and individuals we serve.
Subscribe
Sign up to receive information about upcoming programs, events and the latest in Alzheimer's news. As a subscriber, you will receive a bi-monthly e-newsletter and a quarterly printed newsletter in the mail.