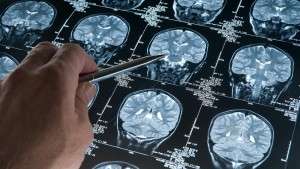 By Caroline Ster & Carly Graber
It can seem like there's a new Alzheimer's "breakthrough" almost every day. We sift through the headlines and pull together the relevant, reputable research updates for you. Here are 5 things you should know about Alzheimer's and dementia research from the last month.  
1. Local researchers discover HIV drugs may help people with Alzheimer's
Scientists from Sanford Burnham Prebys Medical Discovery Institute have discovered new DNA evidence linked to Alzheimer's disease – and now theorize that HIV drugs may be the key to finding a cure. SBP researchers identified gene recombination in neurons that produces thousands of new gene variants within Alzheimer's disease brains. This study revealed how the Alzheimer's-linked gene, APP, is recombined by using reverse transcriptase, the same type of enzyme HIV uses to infect cells. Researchers believe existing FDA-approved antiretroviral therapies for HIV that block reverse transcriptase might also halt that recombination process, and could offer a new treatment for Alzheimer's. The relative absence of Alzheimer's in aging HIV patients on antiretroviral medication supports this possibility.
Dr. Jerold Chun, the lead study author, has previously participated in our Date With A Cure research forum. You can watch him provide an overview of the discovery here.
Learn more: http://bit.ly/2UR2tyB
2. Vaccine reduces both toxic proteins linked to Alzheimer's disease
A new study by the University of Texas Southwestern Medical Center shows that an experimental vaccine reduces buildup of tau and beta-amyloid – without triggering severe brain swelling common in antibody treatments. The vaccine is getting close to human trials after being safely tested in three mammals. Researchers predict that if amyloid and tau are indeed the cause of Alzheimer's disease, reducing these proteins in humans could be a life-changing treatment.
Learn more: http://bit.ly/2R6PWIe
3. "Stress hormone" linked to early toll on thinking ability
A new National Institutes of Health-funded study of more than 2,000 people, most in their 40s, found those with the highest levels of cortisol performed worse on tests of memory, organization, visual perception and attention. This link was most pronounced among women. Higher cortisol levels, measured in subjects' blood, were also associated with physical changes in the brain that are often seen as precursors to Alzheimer's or a related dementia. The study is the largest of its kind to look at these factors. While it tightens the link between cortisol, midlife stress and brain changes, research has not yet shown conclusively that lowering cortisol levels will reduce the risk of dementia.
Learn more: http://bit.ly/2BvJ6lK
4. New online platforms may be game-changers for clinical trial enrollment
More than half of all studies fail to start on time because of a lack of volunteers. To combat this and speed up recruitment for Alzheimer's trials, researchers have created innovative new online platforms to create a database of potential participants. The Trial-Ready Cohort for Preclinical/Prodromal Alzheimer's Disease – commonly known as the Alzheimer Prevention Trials (APT) Webstudy – has enrolled 7,400 people out of a planned 50,000 since 2014. In-person screening of those enrolled will begin in 2019. The study is led by a local researcher, Dr. Paul Aisen of USC, who has participated in our Date With A Cure research forum.
Learn more: http://bit.ly/2EziPWz
5. Millions excluded from Alzheimer's trials because of language barriers
Millions of people are unable to participate in Alzheimer's clinical trials in the U.S. because of language barriers, according to a new NPR report. Few Alzheimer's studies include medical interpreters to help patients complete the specialized neuropsychological testing component required to participate. Clinicians have historically cautioned against using interpreters for neuropsych testing, based on evidence they affect testing outcomes. But Alzheimer's advocates are working on a solution. The organization UsAgainstAlzheimer's has launched the Alzheimer's and Dementia Disparities Engagement Network to track disparities in dementia care and research access for minorities. In addition, pharmaceutical giant Eli Lilly team is exploring telemedicine as a way to enable broader access to clinical trials.
Learn more: https://n.pr/2SXnZ2H
To learn more about current clinical trials underway in San Diego County, click here.