By Kara Jacobsen
High school students and future world-changers Madhavi Akella and Megan Dang prove you can make a difference in the lives of people living with dementia at any age. Madhavi and Megan, although from different high schools, are both active Youth Ambassadors with Alzheimer's San Diego. In this role, they volunteer for events like the Walk4ALZ and Rides4ALZ, and raise awareness about Alzheimer's disease through social media and other projects.
Meet Madhavi
Madhavi Akella, 17, is a junior from Scripps Ranch High School. She first got connected with Alzheimer's San Diego when searching for opportunities related to her passion for public health and the sciences. She was moved to start volunteering as a Virtual ALZ Companion last May, after seeing how Alzheimer's affected her great-aunt. The Companion program pairs trained volunteers with people living with dementia based on common interests, personality, and location. Madhavi was matched with Doug McGraw who has FTD or frontotemporal dementia, a rare form of dementia that impacts younger populations, with a majority of cases occurring in people ages 45-64.

RELATED | Fighting FTD: One San Diegan's crusade for education & a cure
"After our first virtual visit, there was a moment where his wife was adjusting the webcam and he immediately recognized me and was excited to chat," Madhavi explains. "I was super surprised. I expected him to not remember me at all. I was used to what I experienced with my great-aunt. But FTD doesn't normally impact memory."
The experience opened her eyes to the fact that there are a lot more types of dementia than just Alzheimer's disease. She says volunteering has also taught her invaluable skills like patience and empathy, and has helped her become a more compassionate person.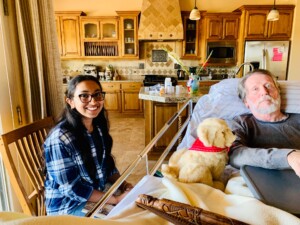 For her, volunteering has been a fulfilling experience – and sometimes even a humorous one!

"Once, I was about to end our phone call when Doug said his phone had gotten so warm, he'd try putting it in the freezer afterwards to cool it down. I then texted his wife just to say hey…this might happen," she shares with a chuckle. "It was quite funny."

LEARN MORE | Become an ALZ Companion
After spending time with Doug, Madhavi had the inspiration to create the Youth Ambassadors program. She was struck by how simply learning about the basics of dementia through her ALZ Companion training helped her understand and relate to people living with the disease.
She also knew she wanted to encourage other people her own age to become Alzheimer's advocates. So Madhavi organized for the Ambassadors to begin making short, engaging videos on the social media platform Tik Tok to reach the younger generation. Their very first video has already been viewed hundreds of times!
VOLUNTEER | Learn more about our Youth Ambassadors opportunity
She continued to build her knowledge of dementia by participating in a mentorship program with University of California, San Diego professor Dr. Kellie Church. Dr. Church was able to guide Madhavi in what was actually going on in the brain of her Companion, while also sharing current research topics like the relationship between diabetes and FTD.

"My mentorship deepened my understanding of these diseases and why they are so difficult to cure," Madhavi says. "I also realized then how without (dementia) awareness, not just regular people, but also health professionals can create a lot of problems like giving improper diagnoses and medications."
Meet Megan
Megan Dang, age 16, learned her grandmother was diagnosed with Alzheimer's just a few years ago. Her initial thought was one people often have: "Oh, she's just going to be losing her memory, this is normal aging."
But she was shocked to see the effects of the disease went far beyond memory loss, when she attended an anniversary party for her grandparents.

"The entire night my grandmother didn't want to come out of her room because she didn't remember most of my family members. She was super scared and seemed to be hallucinating that she was back in Vietnam. I just saw a completely different side to her," Megan explains.
Seeing firsthand how this disease causes so much heartbreak, Megan was motivated to start the Alzheimer's Awareness Club (AAC) at San Pasqual High School with her brother. She reached out to Alzheimer's San Diego for more information. AAC students then started volunteering as Youth Ambassadors. You may have even seen some of their talent show videos on the Alzheimer's San Diego Facebook page, where they record themselves singing, dancing, and playing instruments as a way to entertain people living with dementia throughout the pandemic.

As President of AAC, Megan has been able to connect high schoolers to educational and volunteer opportunities. AAC members have widened their impact to residents at the memory care facility Oakmont of Escondido Hills. Before COVID-19, they would spend time doing in-person visits. But as the situation evolved, they decided to stay connected as pen pals through monthly handwritten letters and holiday care packages.
It may seem like a small gesture, but it's made a world of a difference in the lives of these residents.
"When COVID hit, I didn't expect to be able to do very much. But I've found with this disease, even little things like letters and pumpkin gifts during Halloween matter so much," Megan says.
"One gentleman was so touched by a letter he received…he wanted to keep it in his pocket for safekeeping and carried it with him everywhere."
Click here to support people living with dementia and their care partners. Or click here to learn how you can get involved as a volunteer like Madhavi and Megan. As always, 100% of every dollar stays local to help the community we know and love.