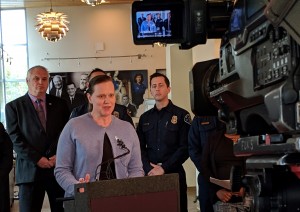 At Alzheimer's San Diego, we work with families in crisis every day. Crises are hard to avoid when it comes to this disease – and they're as diverse and complex as each of the families we serve.
Six months ago, Alzheimer's San Diego partnered with Grossmont Healthcare District and the County of San Diego to launch an innovative new pilot program: the Alzheimer's Response Team (ART). This team is specially-trained to work with people with dementia in case of an emergency or crisis, and prevent them from unnecessarily ending up in the emergency room or jail.
The program results so far were shared at a news conference on December 5th. We are deeply encouraged by the success of the pilot program, which currently covers Santee, Lakeside and unincorporated El Cajon.
RELATED | See coverage in the San Diego Union Tribune: Six months in, Alzheimer's Response Team shows promising results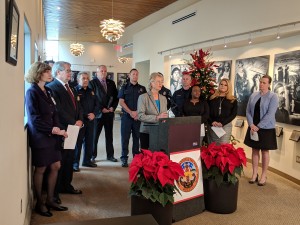 Since ART launched this June, Alzheimer's San Diego dementia experts trained more than 350 first responders, social workers and mental health clinicians. There have been 50 referrals to the program, which led to 22 open cases. ART assists families beyond the first call for help. County social workers and Alzheimer's San Diego dementia experts provide continued support and help prevent future crises.
ART is funded by Grossmont Healthcare District and the county Board of Supervisors (spearheaded by Supervisor Dianne Jacob). While the pilot program currently covers a small portion of the county, we hope that it will eventually be expanded to help all San Diegans. As always, Alzheimer's San Diego is here to support families in all parts of San Diego County.
To learn more about the ART program and eligibility, please contact Alzheimer's San Diego: 858.492.4400.