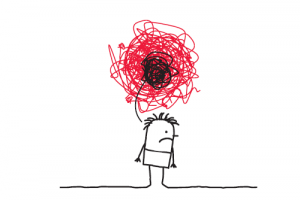 As a dementia caregiver, it can be difficult and hurtful when your person lashes out. But it's important to recognize their behavior may be a symptom of the disease changing their brain. They can't control it – but you can control your reaction to it.
People living with dementia can get confused, depressed, and angry as the disease progresses. Their feelings and actions are sometimes hard for them to control. It's important to listen for their intention, not just the words they are saying.
For example, your mother may suddenly become resistant to taking showers, even though she used to shower every day. Rather than focusing on her anger, think about where this resistance may be coming from. Is she scared of falling? Or perhaps she's trying to protect her modesty? Experiment and make some thoughtful changes such as installing a shower bar or getting her a fluffy robe and see if that makes a difference.
We've put together some practical tips to help dementia care partners prevent or redirect anger, frustration, and fighting. You can always give us a call at 858.492.4400 and ask to speak with a social worker for additional help!
Keep things simple
Try to match tasks and what you expect with what your person can do.
Keep your home quiet and calm when you can.
Speak slowly and try not to say too much at one time
Make a change
Lead your person to a different room.
Offer to watch a TV show or listen to music.
Ask a question about a topic your person enjoys.
Offer a treat like a cookie or some ice cream.
Be safe
Remove or local away all weapons (guns, knives, etc.)
Back away slowly if the behavior is scary.
Call 911 if you are afraid for your safety or the safety of others.
For more information and free support, call Alzheimer's San Diego at 858.492.4400.