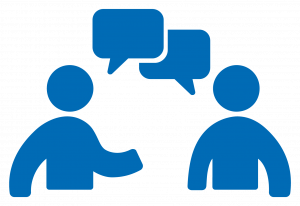 By Ronda Savel
Communicating with someone with dementia can be frustrating at times. However, it's important to recognize that people living with this disease cannot control their memory loss – but we can control how we react to it.  
Alzheimer's San Diego recently held a class called Communication Skills, which is designed to provide helpful tools to use when communicating with someone with the disease.  Among those attending were grown children, spouses, and friends of someone with dementia, all whom have had difficulties communicating with them in the past.
"It is our responsibility as caregivers to manage the way we communicate with our loved one when the person with dementia can't," explained Jean Alton, the dementia care consultant who led the class. "It is easy to forget this when difficulties communicating arise."
RELATED | Get the latest class calendar
One caregiving tool Jean suggested was "stealth management".   
"Work behind the scenes, providing opportunities for them to stay in control of their life without challenging them," she explained. An example Jean shared involved a daughter who needed to protect her mother from cutting herself while prepping vegetables. The daughter proactively removed all the knives from the kitchen, chopped all the vegetables ahead of time, and redirected her mother by asking her to show her how to prepare a favorite family recipe. That resulted in a beautiful mother-daughter moment, strengthened by the fact the daughter didn't have to worry about her mom's safety at the time.  
Next, Jean encouraged the class to stay self-aware of the message they relay to their loved one through their tone, body language, facial expressions, attitude and behavior.  
"They pick up on your positive and negative emotions," she said.  "Make adjustments to the ways you communicate negatively."
RELATED | Recap: Why do they do that?! with Teepa Snow
She also stressed the importance of smiling, being genuine and showing kindness when communicating with someone living with dementia. Jean encouraged care partners to slow down a bit, maintain good eye contact and respect personal space. She also suggested addressing them by name as you introduce yourself, and to be aware of both your tone and volume.
Someone in the class shared an experience they had when their mother, who had forgotten  who they were, actually thought they were someone else.
"She is visually seeing you as that person in the moment," Jean explained, "so enter into that moment with her instead of trying to reason with her and telling her that she is wrong."
Throughout the class, Jean continually stressed how important it is for caregivers to stay nimble because what works today may not work tomorrow.
"I hope each person in the class left understanding that as care partners and people who live with and love someone with dementia, it is incumbent upon us to change how we communicate with them," she said. "We don't lose them to the disease…the essence of who they are stays with them."
To receive free, personalized support from our team of dementia experts, contact Alzheimer's San Diego at 858.492.4400 or info@alzsd.org.