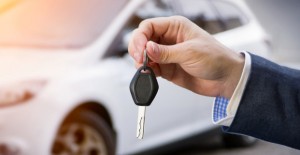 By Marci Martin
A Roadmap for Caregivers
Caring for a family member with dementia can be a stressful and difficult journey.
At Alzheimer's San Diego, we know the caregiving road is dotted with a varied range of CAUTION signs to navigate, from personal care to medical appointments, and socialization to financial burdens.  Of significant concern for many families with a person living with memory loss, is knowing how and when to intervene when it comes to driving.  Alzheimer's San Diego presented a live webinar recently to address those very concerns, hosted by Amy Abrams, Director of Education, and Jean Alton, Dementia Care Consultant.
The truth is, most of us would rate ourselves as above-average drivers.  "This high self-assessment is at the core of why it makes the conversation about driving so hard with someone who has dementia," Jean said.  Coupled with the facts that persons over the age of 75 have a greater risk of collisions and higher rates of fatalities, a considerable portion of the webinar focused on how dementia affects driving.
"It's a public health issue," Jean stated, "and a safety risk for all of us."
RELATED | Explore our Webinar Library
Jean shared that many skills and responses become compromised for people living with dementia over time, such as forgetting which pedal to use for braking, forgetting to turn on headlights, or getting lost in what had been a familiar neighborhood.  Judgement also suffers by way of not being able to safely assess braking distance, or difficulty navigating turns.  As sensory changes take place in the brain, Jean emphasized that a person with dementia may not be able to determine which direction the siren sound from an emergency vehicle is approaching, or may exhibit poor lane control due to a narrowing field of vision.
While many people may think wandering is something that will not affect the person they're caring for – or that it only occurs when walking – Jean says it can happen while driving, too.
"Open your mind to a higher probability that your person will wander," she said.  Some of the common causes of wandering while driving are confusion, restlessness, or memories of past experiences.  Any of these behaviors can result in a person with memory loss returning from a routine trip much later than normal.
"More than 60% of people with memory loss will get lost", Jean explained, "so it's important to be proactive."
Taking Action
Several key steps were outlined to give caregivers the confidence to talk with the person living with dementia about no longer driving.
"You will probably hurt someone's feelings," Amy said, "but you have my permission." She emphasized that caregivers need to recognize that the issue is about personal and public safety. "Having the discussion is more important than any one person's emotional state," she explained.
One of the first steps for taking action is for family members or a care partner to keep a detailed written record of the driving ability and responses of the person with dementia.  Amy advised the webinar participants to consider such things as:
Are you noticing more dings and scratches on the vehicle?
Are you or other passengers hearing other drivers honking at your person more frequently?
Is your person forgetting how to locate places that were once familiar?
Are you hearing reports from other passengers about 'near misses'?
By keeping this written record, care partners can then work with an objective list of facts, which will aid them in assessing their next steps.
RELATED | Free companionship for people living with dementia
Once a family has a written record of their person's driving abilities, Amy advised that those findings may be shared with a physician.
"It's important to see the doctor as a partner or advocate in the discussion with your person with memory loss," Amy shared.  Sometimes a simple 'prescription' from a doctor for the person to cease driving is all that is required.
In California, the diagnosis does not result in automatic driving license revocation, however, doctors in our state are mandated to report a dementia diagnosis to the DMV.  So, another option that was shared for families or caregivers is to request a re-evaluation of your person's driving abilities directly from the DMV.
Preparing to Stop
Driving is a privileged activity, and it can represent freedom and autonomy.  Caregivers were encouraged to keep that in mind when preparing to have a driving discussion with someone living with dementia, and to understand where any emotions and resistance could be coming from.
Amy and Jean also suggested caregivers or family members begin practicing being a passenger.  This can be done by allowing a neighbor, other professional, or friend drive you and the person you're caring for.  By carpooling with other drivers, this can reduce the need for your person to drive and will help them get used to outside transportation alternatives.
Alzheimer's San Diego's Dementia Care Consultants are available to help you and your family plan for your person with memory loss ease into the transition from driver to passenger.  Contact Alzheimer's San Diego for a referral list of local transportation resources and other supportive tools to minimize any bumps in the caregiving road by calling 858.492.4400.