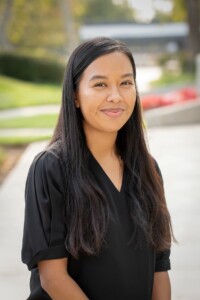 By Kara Jacobsen
When Gaby Mendoza was looking for a new job opportunity, she knew she wanted to find a role that helped people – especially those that are underserved like the older adult Spanish-speaking population of San Diego County. With her background and awareness of diseases like Alzheimer's and other dementias, Gaby was excited when a position opened at Alzheimer's San Diego for the role of Clinical Care Coach.
Gaby is fluent in Spanish and was born and raised in San Diego. In 2018, she received her degree in Sociology with an emphasis in Social Work from Cal Poly Pomona. During her undergraduate schooling, she volunteered with older adults at a memory care community. She established a bond with a woman living with dementia through a program similar to the Alzheimer's San Diego ALZ Companions program. Together, they'd socialize and take daily walks around the back patio at the facility. This experience really made an impact.
"I remember being pleasantly surprised by how the woman recognized me too, even if the disease meant she wasn't exactly sure how she knew me," Gaby explains. "I could tell having a familiar face around put her more at ease."
LEARN MORE | ALZ Companions Respite Program
Now, Gaby is continuing to create connections like this and give care partners helpful tips as a Clinical Care Coach at Alzheimer's San Diego. In addition to answering calls through the phone support line, Gaby has helped with the ART (Alzheimer's Response Team) program. In partnership with APS (Adult Protective Services), she conducted in-person visits and bi-weekly phone calls to local families in crisis situations, helping to ensure the person living with dementia, and/or their care partners' needs were being met. These ART cases were meaningful for Gaby because she was able to actively improve the situations of those she helped from start to finish, and she is grateful she was able to be a part of the program before our involvement wraps up at the end of 2021.
Gaby's favorite part of her role at Alzheimer's San Diego is when she gets the opportunity to interact with Spanish speakers that reach out for support. As the organization has expanded its education programs offerings to include Spanish webinars in addition to English, there have been an increased number of calls from people needing support in Spanish. She values being able to have that cultural context and shared understanding with them.
APRENDE MÁS | Servicios in español
"It's nice because they don't have to explain themselves. Alzheimer's and dementia are not easy topics. But I'm glad I'm able to be that listening ear, as people share what can sometimes be very emotionally heavy conversations. Hopefully, I am able to bring them comfort," Gaby describes.
If Gaby could share one piece of advice with care partners it would be to take it day by day. Caring for your person and yourself takes courage and resilience. It's an overwhelming undertaking, but she encourages people to establish a support system.
You're not alone! Talk with one of our local Clinical Care Coaches like Gaby today by calling 858.492.4400.