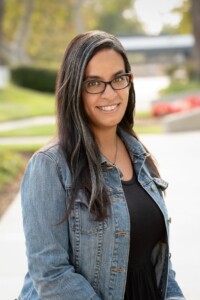 By Kara Jacobsen
Lourdes Cabret, LMHCA, joined Alzheimer's San Diego in 2021 as a Clinical Care Coach. For her, our mission is very close to home. 
Her grandmother had Alzheimer's disease, and she now believes her father might have had vascular dementia. If she had not gone through the training for her new position, she realizes she may not have noticed the symptoms of memory loss in her father.

"Alzheimer's and dementia are briefly mentioned in textbooks in schools, but it's a health issue that touches so many. Nowadays, you see it a lot in the movies, but as a society there is still a stigma surrounding it and awareness is still lacking," she explains.
REGISTRAR | Seminarios web de educación en español 
Lourdes has a bachelor's in Liberal Arts with an emphasis in History and Literature and holds a master's degree in Family Counseling. She has worked for many years in the mental health care field, specifically helping people experiencing severe trauma. 
As a military wife, she has traveled around the world and served many people along the way. She was born and raised in Puerto Rico and fell in love with San Diego when she first visited in 2004. After relocating to Italy for a few years, she officially made San Diego her home in 2020.
Her responsibilities as a Clinical Care Coach at Alzheimer's San Diego involve supporting people who reach out to our office with questions and challenges, and helping to manage our social activities. Lourdes finds it rewarding to be able to provide skills and a safe space for people to express their emotions.
"At our Music-Centered Wellness social activity, I connected with an older gentleman with dementia. He was able to tell me about his experiences in World War II and you could just see the happiness on his face because I was open to listening to him. As someone who loves history, it was a very fulfilling moment," she describes.

LEARN MORE | Upcoming social activities & outings
Lourdes is glad she is now able to share her knowledge on these more sensitive topics. She values supporting and educating San Diegans, especially the underserved Latinx population.
While she understands some people on this journey might be traditionalists or just may not be aware of where to find resources, she encourages care partners to attend a support group or reach out – our team of dementia experts are just a call or email away!
Speak with one of our Clinical Care Coaches like Lourdes today by calling 858.492.4400 or emailing support@alzsd.org.