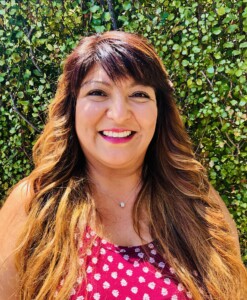 By Kara Jacobsen
Meet Nellie Hernandez, MSC – our new Dementia Educator! Nellie is fluent in Spanish and is excited to help us extend our current programs and services to the Spanish-speaking community in San Diego County.
Nellie has held previous roles working in the social services sector and enjoys being able to successfully connect people with critical resources. She also is passionate about the mission at Alzheimer's San Diego of striving to reduce the stigma surrounding dementia – and create a safe space for the people impacted. Nellie hopes in her new position she'll find ways to make others, especially those from different cultural backgrounds, feel comfortable and supported.
ABOUT | Alzheimer's San Diego's mission
Nellie is from the San Joaquin Valley and has resided in San Diego for the last 20 years. She received her bachelor's degree from SDSU in Child and Family Development and went on to complete her Master's of Science in Marriage, Family and Child Therapy (MSC) through the University of Phoenix. Her studies taught her that no matter how different our individual lives might be, we're all connected because we go through the same life stages.
"I'm excited to be able to provide people with information that sparks a sense of hope. Even if what we learn about Alzheimer's and dementia can be tough, I know the knowledge I'm providing helps others establish a new sense of control over their choices and circumstances," Nellie describes.
LEARN MORE | Check out our online education classes and workshops
Nellie knows caring for someone with dementia is difficult. Her mother was a caregiver and her aunt is living with vascular dementia. She also finds there are challenges specifically for multigenerational households and communities of color. Nellie says that not only are these groups less likely to be open to receive help, but they can sometimes view diseases like Alzheimer's as a part of normal aging and not push for a diagnosis. This is why she believes that having organizations like Alzheimer's San Diego as a resource for education and support is so important. To be able to provide the knowledge to those who need it at no cost is so valuable.
"I find the more people learn about dementia, the more likely they're able to take a load off and release feelings of guilt and blame. It's important to give caregivers permission to accept help and find moments of rest for themselves," Nellie says.
Her biggest piece of advice to caregivers is to be open to learning more, to accept help, and to remember that they're not alone.
Learn about our education opportunities by clicking here or calling 858.492.4400.