Ken Darling has always been a caregiver. It's in his bones.
When his mother, Dorothy, was diagnosed with Alzheimer's disease in 1997, he didn't hesitate to put his life on pause. He stayed by her side for the next 15 years – through lung cancer, the death of her husband, and the everyday heartbreaks of this terrible disease – until she passed away in 2012.
Even as dementia started clouding her brain, Dorothy understood what her son was doing for her, and the toll it would have on him. She was always a caregiver, too.
This was never more apparent than two years after she passed away, when Ken found a letter she'd written, addressed to him and his siblings.
"In this letter, my mother was talking about what I did for her – and what I was going to do for her. She knew what I'd be giving up, and asked my siblings to keep an eye on me," Ken explains, his voice full of emotion. "Not finding it until after she passed away was tough, but where it was…it was something to be found. She knew I'd find it. She just didn't know when."
Thankfully, his sisters were always there to support him as he cared for their mom. Even though they had careers and families of their own, they stepped in to make sure he had time to himself every week to recharge. One way he did this was by attending a caregiver support group in Vista.
"The first time I went, it was a bit frightening. It's hard to walk into a room full of strangers and open up," Ken says. "But it doesn't take you long to get comfortable, because everyone in the room knows and understands what you're going through. It was huge to have that support."
Ken still has strong relationships with people from that support group, and continues to attend to this day. In fact, many group members are part of his Walk4ALZ team, Dorothy's Darlings. Since 2008, his team has raised more than $140,000 for Alzheimer's support and research.
Sandy Braff and Janet Hartshorne have been part of Dorothy's Darlings since the beginning. Sandy has led the support group where they first met for more than three decades.
"Ken himself is an amazing, amazing person. He has a lot of heart, a lot of soul, a lot of caregiving experience," Sandy shares. "People in the group see that and want to support the walk team, out of love and respect for him."
When Janet first met Ken in the support group, she was caring for her husband, David. She says Ken was an inspiration.
"We all admired everything he did for his mom. He was a strong ally to the rest of us, with lots of ideas and suggestions," she says. "If there was a situation I couldn't handle, I knew I could call Ken."
For many years running, Dorothy's Darlings was the top Oceanside walk team. Even before the Oceanside Pier was closed for construction in 2018, Ken would come to the Balboa Park walk, too.
"We prefer Oceanside," he says with a laugh. "But when you go to the Balboa Park walk, and see the amount of people that are there – all going through the same thing – it's an amazing feeling."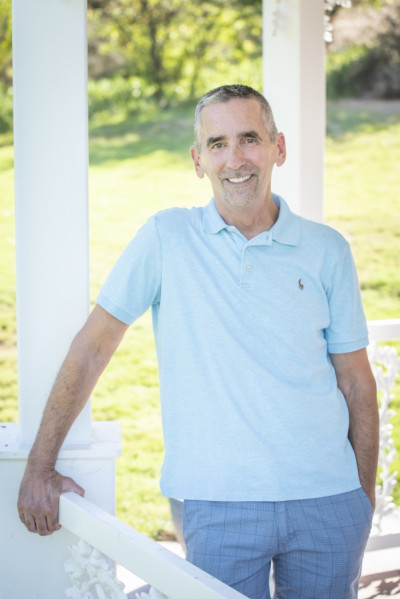 Ken says his core team members, like Sandy and Janet, help ensure Dorothy's Darlings keeps growing year after year. He's also been motivated by how Alzheimer's San Diego has continued to expand its free services, especially in North County, and its journey to become a local and independent organization.
"I know changes happen, but the base is always there. Alzheimer's San Diego has done so much in terms of giving to us, and helping us. I walk because I'm going to honor my mother every single year one way or another," he continues. "It's not going to help my mom, but maybe it will help someone else. That's what keeps me going."
Ken says he knows his mom would be proud of how far Dorothy's Darlings has come, and that he's continued to help other families as a professional caregiver.
"She was the greatest mother. She loved to help people. Doing this for a living, taking care of people, is how I honor my parents," he says. "I learned a lot, just by watching her."
Join Ken and thousands of other Alzheimer's advocates at the Walk4ALZ on October 19th at Balboa Park. Click here to learn more and register for free.