SD Rides4ALZ
SAVE THE DATE: July 15, 2018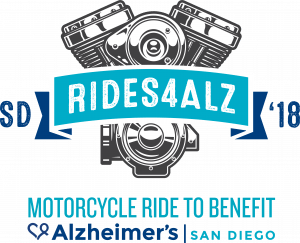 Join us for the second annual SD Rides4ALZ as we ride for the nearly 65,000 San Diegans living with dementia.
This 100 mile community motorcycle ride will raise awareness and funds for local families impacted by Alzheimer's disease, and help advance research for a cure. 100% of every dollar you raise will stay in San Diego to help the community we know and love.
Learn more by watching the video from the 2017 SD Rides4ALZ below. Click here to register.