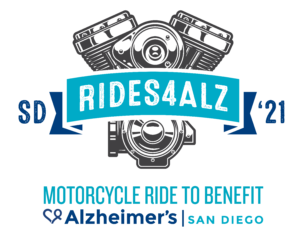 On Saturday, July 10th, more than 350 riders, passengers, and supporters came together to celebrate the 5th annual Rides4ALZ. Because of their generosity, we raised a record $225,879 for local Alzheimer's support and research! This surpassed our fundraising goal, and was more than a 21% increase from 2020. Rides4ALZ was in the news this year:
Thank you to our riders, sponsors, and everyone who supported them. Countless San Diegans will have the free support they need because of you. We're still taking donations for this event through the end of August thanks to title sponsor, ICON Utility Services.
Click here to make a donation >>
We'll post information about the 2022 ride shortly. Check out photos from this year below.