Gifts Matched: Triple Your Impact!
All donations tripled through the end of May, up to $25,000
In this season when we celebrate and honor the mothers and mother figures in our lives, many daughters and sons here in San Diego County have a different story to share.
Their stories are 'full circle' stories . . . those which start off with a loving, caring mother nurturing and taking care of her child . . . and then one day the child recognizes the signs that it's time to start nurturing and taking care of mom.
It's a story that affects over half of the 84,000 San Diegans with Alzheimer's disease or another dementia, and more than 250,000 who love and care for a mother living with the disease.
Alzheimer's San Diego is here to ensure no San Diegan has to face this disease alone — and right now, we have a special opportunity to do much more! Thanks to the combined generosity of Darlene Marcos Shiley and Cameron and Tammy Rooke, all donations through the end of May will be tripled, up to $25,000.
After that, all donations will still be doubled, up to $50,000.
That means your gift of $25 becomes $75, $50 becomes $150 and so on, to do three times as much good in our community. And remember, 100% of your donation stays right here in San Diego County.
Can we count on your support during this special Celebrating Mothers Matching Challenge?
Your gifts help us create the kind of innovative and compassionate support services that our caregivers deserve and our families need, including education classes, support and discussion groups, social activities, family care consultations, and our ALZ Companion respite program.
Please give as generously as you can to help families today as we work to find a cure for tomorrow. Thank you for showing our community that we care about our mothers!
Gratefully,

Eugenia Welch
President/CEO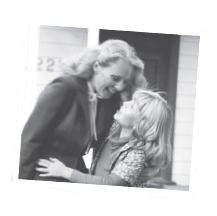 Two Mothers Remembered
By Joann Snow Duncanson
I had two Mothers – two Mothers I claim
Two different people, yet with the same name.
Two separate women, diverse by design,
But I loved them both because they were mine.
The first was the Mother who carried me here,
Gave birth and nurtured and launched my career.
She was the one whose features I bear,
Complete with the facial expressions I wear.
She gave me her love, which follows me yet,
Along with the examples in life that she set.
As I got older, she somehow younger grew,
And we'd laugh as just Mothers and daughters should do.
But then came the time that her mind clouded so,
And I sensed that the Mother I knew would soon go.
So quickly she changed and turned into the other,
A stranger who dressed in the clothes of my Mother.
Oh, she looked the same, at least at arm's length,
But now she was the child and I was her strength.
We'd come full circle, we women three,
My Mother the first, the second and me.
And if my own children should come to a day,
When the new Mother comes and the old goes away,
I'd ask of them nothing that I didn't do.
Love both of your Mothers as both have loved you.