The author, Brigette Simms, is one of the 250,000 San Diegans caring for someone with dementia. In her case, her mother is living with this disease. She is sharing her story with Alzheimer's San Diego, and hopes to inspire others to find humor in the face of dementia.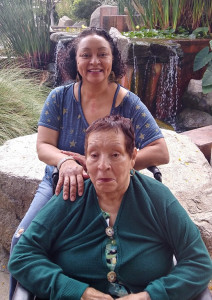 By Brigette Simms
My mother has had dementia for the past 6 ½ years.  Dementia is like any other serious illness – there is much sadness and pain when you watch a loved one wither away.  I experienced this with my incredibly strong father 25 years ago, when he was passing away from cancer.
At that time, I was extremely bitter because I couldn't understand the suffering that was involved for all of us. But eventually, I came to understand that it was Dad's battle and I was only there to give him support and love through his journey.  When Mom was diagnosed with dementia, I refused to go down that path of misery and despair again.  Yes, I lost an independent mother who I had known all my life, but I learned to embrace this new person through love, compassion and humor.
As many people are aware, our loved ones with dementia can sometimes say the funniest things. That's why I spend most of my days laughing with dementia.  I will NOT let this illness irritate me. I've found ways to conquer it head-on.
Usually in the mornings, I lay in bed with Mom for at least 15 minutes and we just poke and tickle each other.  It starts off her day with energy by exercising her brain and body and puts her in a good mood.  Then she'll ask me what she should do next, and I'll tell her to go to the restroom.  Of course she'll hesitantly sit on the edge of her bed and ask me a few more times and eventually I'll tell her that she needs to go for a walk to exercise.  Then she'll usually say: "Bull**** I'm going to the bathroom!"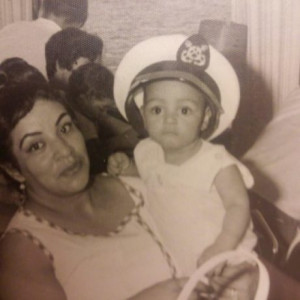 That always makes me laugh.
RELATED | Notes from a Social Worker: (BLEEP) happens!
One night, I was struggling to take off Mom's shirt to put on her pajamas.  I said: "Mom, you have a really big head!"  She questioned: "Is your head small?"  I said yes, and she said: "That's because you don't have much brains."
We laughed, and I thought to myself that I have enough brains to not take that personally.
Humor is so important and helps the day go by quickly and lightens our load!  Anxiety and depression are symptoms of 59% of unpaid caregivers, and this statistic needs to decrease.  As care partners, we must maintain our mental and physical well-being in order to take care of our loved ones who really need our help. Laughter can be quite therapeutic by uplifting our spirits and that's why I started my blog, Laughing With Dementia.  If you need to find a way to laugh in the face of this disease, I'm inviting you to join me!
To follow Brigette's journey, visit her blog, Laughing With Dementia. Need support? Contact Alzheimer's San Diego at 858.492.4400 to speak with a dementia expert. We're here to help!