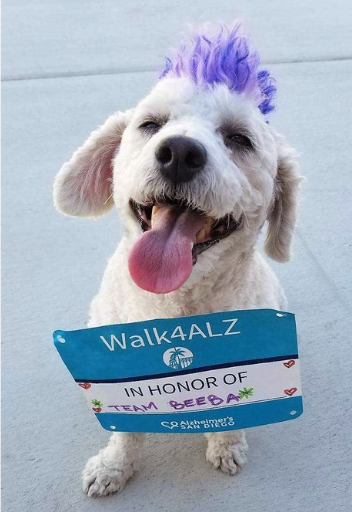 Meet SunKnee – this year's Walk4ALZ Mascot!
SunKnee is a 7-year-old Bichon Poodle mix. His loving dog mama, Angela, has worked full-time as a caregiver since 1997. She started as a volunteer and fell in love with the occupation. Helping people living with dementia is a cause near and dear to her heart, so it's no surprise she and Team Beeba are proud supporters of the Walk4ALZ.
Angela was given SunKnee when he was only 4 months old, and they've had a special bond ever since.
SunKnee will be one of many furry friends at the Walk at Balboa Park on October 19th. Dogs are welcome, and there will even be a special meet-up area for them near the Traci's Paws booth! SunKnee will officially start the walk and help Angela judge the pet costume contest.
Get to know more about SunKnee in the Q&A with Angela below!

Q: Is there a story behind SunKnee's name?
A: SunKnee, also sometimes called SunKnee Boy, joined our family on a Sunday.
Q: What are SunKnee's favorite foods/treats?
A: He loves raw vegetables and fruits! 
Q: What are SunKnee's favorite toys?
A: He loves his "babies"/stuffed animals.
Q: What is SunKnee's favorite place in San Diego?
A: He loves dog parks, especially Dog Beach.
Q: What are you excited about for this year's walk?
A: We are looking forward to raising as much money as possible for a cure. This cause is dear to me because of the time I've invested as a caregiver. I'm just so happy to contribute in this way.
See photos from our pet costume contest below & click here to register for the 2019 Walk4ALZ!