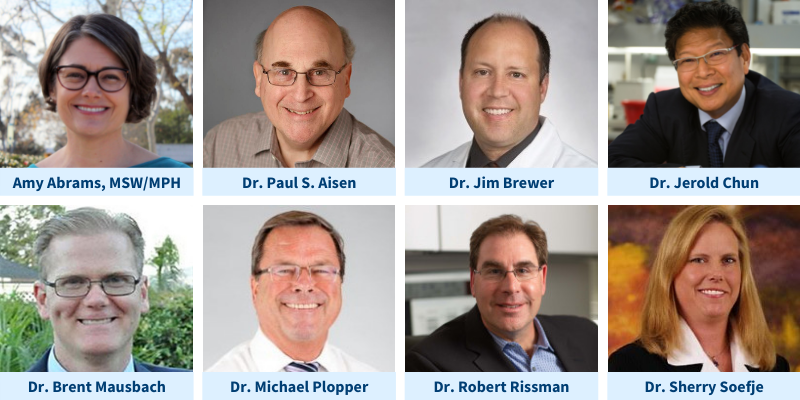 San Diego County is home to some of the best and brightest Alzheimer's researchers and institutions. Every year, Alzheimer's San Diego is honored to host them as they come together at Date With A Cure. This free research forum provides a rare opportunity to get your questions about dementia answered – by the very experts working to find a cure.
This year, the event will be held Saturday, June 12th from 10 AM-12 PM via Zoom. The esteemed panel represents some of the most cutting-edge breakthroughs in disease pathology and caregiving strategies.
Amy Abrams,  MSW/MPH
Director of Education, Alzheimer's San Diego
Amy is this year's Moderator. She has worked in the field of long term care in San Diego since 1999. She holds a joint Master of Social Work and Master of Public Health from San Diego State University, and is a certified Positive Approach™ to Care dementia trainer. She is responsible for all aspects of community and professional education programs at this organization, which provide critical dementia education for families, caregivers, individuals with dementia, professionals, and other community members.
Dr. Paul S. Aisen
Director, USC Alzheimer's Therapeutic Research Institute
Dr. Aisen is a professor of neurology and the founding director of USC Alzheimer's Therapeutic Research Institute (ATRI). He has been a leading figure in Alzheimer's disease research for more than two decades, having developed novel methodologies as well as designed and directed many large therapeutic trials. He has also authored more than 350 scientific papers.
Dr. Jim Brewer
Director, UCSD's Shiley-Marcos Alzheimer's Disease Research Center
Dr. Brewer received his degrees at Stanford Medical School, where he developed advanced structural and functional neuroimaging approaches for the study of human memory. Later, he moved to Johns Hopkins for training in neurology and then joined the faculty of UCSD. Dr. Brewer has developed and applied advanced neuroimaging approaches for early detection of Alzheimer's in the clinical setting and also as a measure of the efficacy of new drugs under development.
Dr. Jerold Chun
Senior Vice President, Neuroscience Drug Discovery
Sanford Burnham Prebys Medical Discovery Institute
Dr. Chun received his degrees through the Medical Scientist Training Program at Stanford University, and as a Helen Hay Whitney Postdoctoral Fellow at the Whitehead Institute for Biomedical Research – MIT. He has made important contributions to our understanding of the brain and its diseases, including the discovery of genomic mosaicism in the brain and its involvement in the most common forms of Alzheimer's disease with relevance to other brain diseases.
Dr. Brent Mausbach
Clinical Psychologist, UCSD Health
Dr. Mausbach, as part of Patient & Family Support Services at Moores Cancer Center, provides psychological assessment, diagnosis, or ongoing therapy for patients and families who are experiencing issues that are either related to cancer or are interfering with cancer treatment. He has also received grants from the National Institutes of Health for his research into behavioral treatments for caregivers of people with dementia and improving function in patients with schizophrenia.
Dr. Michael Plopper
Medical Director, Sharp Clinical Research Center
Dr. Plopper, former chief medical officer of Sharp Behavioral Health Services for over 20 years, started the Clinical Research Program in 1995. He has served as principal investigator on over 200 psychiatric clinical trials for schizophrenia, Alzheimer's disease, and other central nervous system disorders in adults and children.
Dr. Robert Rissman
Associate Professor of Neurosciences, UCSD
Research Biologist, VA San Diego Healthcare System
The Rissman Lab at UCSD was initially focused on Alzheimer's disease and understanding how stress and changes in stress signaling intermediates in Alzheimer's disease neuropathology. This research now continues at Dr. Rissman's VA San Diego Healthcare System Lab. The Rissman Lab at UCSD now studies the mechanistic pathways that link Parkinson's disease pathology to Alzheimer's disease. Dr. Rissman is also the Director for the Alzheimer's Disease Cooperative Study (ADCS) Biomarker Core and the Director of the Alzheimer's Disease Research Center's (ADRC) Neuropathology and Biomarker Cores at UCSD.
Dr. Sherry Soefje
COO and Medical Director, Excell Research
Dr. Soefje is Co-Founder, Chief Financial Officer, and Medical Director of Excell Research and a Clinical Supervisor for the Psychiatry Residency Program at University of California, San Diego. She brings close to 20 years of clinical trial experience, has participated in over 200 clinical trials in the CNS area, and has assumed the role as Principal Investigator for a majority of those trials since 2012.
We'll see you at Date With A Cure on June 12th – come with all your questions! Space is limited, and you must pre-register to attend. Click here to register >>