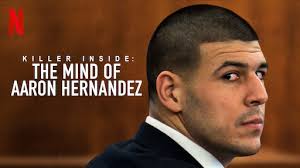 By Kara Jacobsen
This month, we celebrated the Super Bowl and saw a lovely commercial from Google about memory loss. (Click here to watch in case you missed it.) But there is a trend being carefully examined that puts the NFL in the hot seat. It is responsible for over 200 cases reported in tackle football affecting many retired NFL players, including Aaron Hernandez and San Diego's own Junior Seau. 
In January of this year, Netflix released a documentary on Aaron Hernandez, who committed suicide after being convicted of murder in 2013. Aaron showed noticeable changes in mood and behavior, so his family gave doctors consent to examine his brain tissue. Dr. Ann McKee discovered shrinkage, damage, and abnormal tangles of Tau protein. But despite the signs and symptoms, the cause was not Alzheimer's disease or dementia. It was diagnosed as a brain condition called chronic traumatic encephalopathy, or CTE. In fact, it was the most severe case of CTE for his age group ever seen.  
What is CTE?
CTE is still being researched and there is no conclusive evidence of its diagnosis until an autopsy is performed. Scientists believe it is caused by repetitive blows to the head and concussions — not just a small number, but hundreds to thousands of impacts over a long period of time. 
Who is at risk for CTE?
The most at-risk groups for developing CTE are football players and other athletes engaging in contact sports such as boxing and hockey, as well as military veterans. The Concussion Foundation reports: "The link is so profound that a high school football player who starts tackle football at age 5, instead of age 14, has an incredible 10 times the risk of developing the brain disease CTE."
How does CTE relate to Alzheimer's disease?
Scientists are still exploring what, if any, connection there is – but they hypothesize CTE could play a role in the development of Alzheimer's down the line. A brain with Alzheimer's and a brain with CTE both show similar shrinkage in the hippocampus and accumulation of the protein Tau resulting in memory difficulties as well as behavior and mood changes. 
When CTE is suspected, many of the same dementia caregiving and communication techniques tips apply.
READ MORE | Caregiver communication tips & other resources
Similar to Alzheimer's, there is no treatment or cure for CTE. The only known prevention is to avoid repeated head injuries. However, a study from The American Journal of Geriatric Psychiatry has suggested PET scans could one day be widely used to diagnose the disease in living patients. 
For more information and free support, call Alzheimer's San Diego at 858.492.4400.