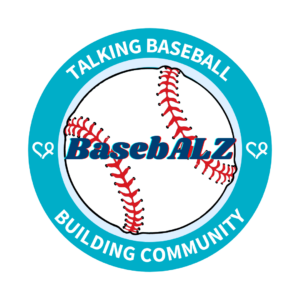 Alzheimer's San Diego is excited to launch in-person BasebALZ … which will now be held on an actual baseball field! This special reminiscence therapy experience is designed for people living with dementia and their care partners. You don't need to be a fan to enjoy this fun and creative program.
BasebALZ is led by volunteer John Williams. When you arrive, he will greet you with replica vintage All-Star Game tickets to start this immersive experience. Together, you will dive into a field of dreams as you play ball with a plastic bat, eat Padres peanuts and Cracker Jacks, and sing Take Me Out to the Ball Game. Your senses will be engaged as you pass around leather mitts and baseballs to see, touch, and smell. You'll also get to see copies of vintage baseball photos, play trivia, and share stories of the game. Feel free to dress up in your favorite team gear!
See the Social Activities & Outings Calendar >>
"Each program is geared towards celebrating and sharing the historic and everyday events of baseball's vast history. My goal is to awaken the baseball senses in each of us by bringing together an interactive museum exhibit, so participants can share their baseball stories and memories, and learn more about this great game," John explains.
"The importance of this program is in the tactile offerings such as holding a vintage worn-in leather mitt or browsing through old photos while holding a replica 1933 All-Star Game ticket stub in your hands, the smell of a game-used baseball, the weight of a wooden bat or the sound of peanut shells cracking and the taste of Cracker Jacks. Throw in some batting practice off of a tee, along with other fun games and trivia, and BasebALZ is the perfect hour to spend outdoors experiencing and exploring the past, present, and future of this timeless game."
Program Info:
Every 4th Wednesday at 10 AM through baseball season (last session is in September)

Hickman Field:

5300 Hickman Field Drive,

San Diego

Questions? Call us at 858.492.4400
Click here to add to your Google Calendar >>
Click here to add to your Apple Calendar >>
Location note: BasebALZ will be held at Hickman Field, the baseball field right behind the Alzheimer's San Diego office. There is a shady spot under a pergola and some trees (see photo below). We ask that you bring your own chairs if you can, as we do not have a large number of fold-up ones. There are four benches that can provide seating as well. Our office bathrooms will be available to use.