The town of Alpine was abuzz last Friday with anticipation for the third annual Quest for the Cure event, benefiting Walk4ALZ. More than 300 people packed the Alpine Community Center for a night of delicious barbecue, fundraising and awareness.
Quest for the Cure team captain Linda Cioffi has a powerful connection to the mission of Alzheimer's San Diego. She owns and operates Alpine View Lodge, a memory care facility, which has been in her family for over 30 years. She has seen countless people lose their spouses, parents – and even children – to this disease. This year's event was particularly important to Linda, as her mother, Mary "Kip" Cioffi, recently passed away from vascular dementia.
The friends and family of Alpine View Lodge knew they needed to rally around Linda during this difficult time. She has always served as a beacon that helped guide many of them through their darkest hours. In a move to honor both Linda and her mother, the Quest for the Cure team pledged to surpass the $72,000 they raised last year for Walk4ALZ. As of now, they are well on their way to achieving that goal.
RELATED | Register for Walk4ALZ for FREE
The event itself began with a silent auction with baskets such as Pageant of the Masters tickets and dinner, Padres dugout tickets, tech baskets, summer fun baskets, Taste of San Diego restaurant packages and several other items generously donated by both the members of her team and the Alpine community at-large. After a bustling silent auction, Linda addressed the crowd directly.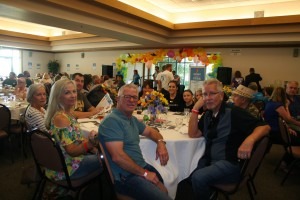 In a moving speech, Linda remembered her mother and the many others that have been affected by dementia. Linda made it clear that there is only one definition for success to her – getting the opportunity to shake the hand of the first person to ever survive Alzheimer's.
"We know that you share your our determination to find a cure for this disease," Linda said. "We want to do this in honor of all those who have lost the battle to Alzheimer's and other dementias, to those fighting it now and for future generations. Who knows – the memory and brain we save might be our own."
The night ended with a live raffle with prizes such as a luxury staycation at a beach or bayfront home in San Diego with area theme park tickets, a Barona Casino package, with spa and golf and a Palm Springs getaway.
This event was a powerful reminder of the impact a few motivated individuals can have on a community. Alzheimer's San Diego is proud to have a woman as strong, caring and brave as Linda Cioffi in our corner and would like to thank each and every member of Quest for the Cure for their selfless contributions to the fight against Alzheimer's and other dementias.
Want to support Team Quest for the Cure? Click here to help them reach their goal.