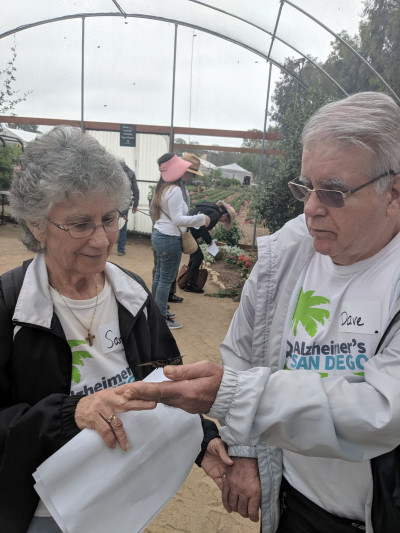 This past Thursday, more than 30 people living with dementia and their care partners joined us at a Social Outing to Butterfly Farms in Encinitas. Soothing wind chimes filled the air as we walked through blooming flowers and explored the home of these beautiful butterflies.
This outing created a space of solitude for families to come together in a judgment-free environment. The butterflies even decided to land on the hands — and heads — of some of the group! After exploring the farm, attendees enjoyed a free lunch (provided by Jewish Family Service ADI) at a summer picnic at Cottonwood Park.  Overall, this large group had a blast being out and about in San Diego.
A special thank you to Jewish Family Service ADI for sponsoring this visit and generously providing the meal and transportation to the event. We hope to see you at our next social activity, Reminiscence Gardening, this Friday at Alzheimer's San Diego. Attendees will get the chance to make and take home their own succulent terrariums.