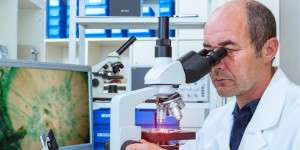 It can seem like there's a new Alzheimer's "breakthrough" almost every day. We sift through the headlines and pull together the relevant, reputable research updates for you. Here are 5 things you should know about Alzheimer's and dementia research from the last month.
To learn about Alzheimer's research in San Diego County, click here or contact Alzheimer's San Diego at 858.492.4400.  
1) Illiteracy Linked with Higher Risk of Dementia
As a part of the Washington Heights-Inwood Columbia Aging Project (WHICAP), scientists have found a link between illiteracy and increased risk for dementia. This study examined 983 adults above the age of 65 in Manhattan's Washington Heights with 4 years of schooling or less. The study time points were 1992, 1999 or 2009. Results demonstrated that those who were unable to read or write developed dementia at an earlier age than those who were literate. Earlier studies had not been able to distinguish the role of reading and writing separately from formal education, which we know is a protective factor in the risk of developing dementia. Participants were asked if they ever learned to read or write meaning the focus wasn't just on education, since some were taught to read or write at home. About 35% of the illiterate group had dementia when the study began, against 18% of the literate group. Of the illiterate group who did not have dementia when first examined, 48% were diagnosed with it upon follow up, whereas only 27% of the literate group had developed it.
Read more at Scientific American, MedScape (requires a free login account), The New York Times or the scientific paper here.
2) No Link Between Statin Use and Dementia
A team from the Garvan Institute of Medical Research at the University of New South Wales led a study demonstrating that statin use was not associated with a decline in cognition. The study lasted six years, and compared statin users with never users. Over the six years, researchers even found that for certain individuals, statins may offer protection against memory decline. Among participants with risk factors for dementia, those who used statins had a slower rate of decline. The results are reassuring, and significant because one of the professors on the study noted that about up to half of the people do not fill their statin prescription, "mainly because they are concerned about reports of individuals experiencing cognitive decline."
Read more at Medical News Today, Science Daily, or the study here.
3) Blood-Brain Barrier – Year Update
A year ago, experts at the West Virginia University Rockefeller NeuroScience institute made a historic breakthrough by using ultrasound waves to temporarily open the blood-brain barrier. The blood-brain barrier makes it so that only very small molecules can get through the bloodstream and into the brain. This really limits the kind of chemicals that can be tested to treat Alzheimer's Disease. They did this using microscopic little bubbles which vibrate once they hit ultrasound waves. The ultrasound treatment itself was also shown to decrease plaques found in mice. Last year, Judi Polak was the first patient of this trial study. At 61, she was first diagnosed with early-onset Alzheimer's Disease. It's been a year since she enrolled, and both Judi and her husband report that they have noticed improvements in her cognition. Currently, Judi is not being given any medication in tandem with the ultrasound treatment, but the hope is that this technique can be possibly used in future treatment for AD with chemicals that previously weren't able to get into the brain.
Read more at Western Journal, PBS
4) Moving Forward with Blood Tests
A company named C2N Diagnostics is working on developing a blood test for Alzheimer's Disease. The project has passed the "proof of concept" stage and will be moving forward to seek approval for use in research and clinical settings by the FDA. The idea of using a blood test made headlines several months ago as scientists in other countries began finding that blood tests could be an accurate and less expensive way to identify biomarkers of Alzheimer's Disease. The project by C2N Diagnostics is funded by BrightFocus and NIH, and called APTUS™-Aβ. The company hopes developing the blood test could pave the way for greater enrollment in clinical trials. Earlier this year, the test received a "Breakthrough Device" designation from the FDA, which is intended to help accelerate the path to approval.
Read more at Bright Focus, C2N Diagnostics.
5) The 12th Annual Clinical Trials on Alzheimer's Disease Conference
The 12th Annual Clinical Trials on Alzheimer's Disease conference was hosted in San Diego this year, and Biogen's announcement on aducanumab was a hot topic. Scientists were able to see more data on the company's announcement on phase 3 trials looking positive, despite initially declaring the medication was not working. The data showed that the highest dose of aducanumab might slow down cognitive and functional decline caused by Alzheimer's disease.
Other hot topics discussed:
HARMONY Trial Update: ending phase 3 trials, effective in combating delusions

SPRINT-MIND Trial on Blood pressure: relationship between blood pressure control and cognitive function

MAPT Trial Update: a five-year update on participants, demonstrating whether exercise, nutritional  counseling, cognitive stimulation is effective in slowing AD and other dementias

Presentations on gantenerumab, donanemab, and BAN2401 on their ability to dramatically clear amyloid, with the clearance being sustained over time
Read more at  Stat News, AlzForum, Being Patient
To participate in clinical trials here are some links to nationwide registries:
To learn about Alzheimer's research in San Diego County, click here or contact Alzheimer's San Diego at 858.492.4400.