Call for Proposals from San Diego Alzheimer's Researchers:
Aug. 18, 2017 – Alzheimer's San Diego is proud to announce a call for Letters of Intent (LOI) for Collaboration4Cure (C4C). We encourage all local institutions working on Alzheimer's disease to submit LOI's to this innovative program with the goal of  identifying effective therapies for Alzheimer's.

Letters of Intent (LOI) for proposals will be accepted until Monday, Oct. 16, 2017 at 5 PM PST.
CLICK HERE to download the (complete text) call for LOI's PDF>> 
Collaboration4Cure is a groundbreaking initiative led by the Alzheimer's San Diego, City and County of San Diego and San Diego's premier research institutes to come together and combine resources in order to accelerate research and drug discovery projects to find a cure for Alzheimer's disease, right here in San Diego. The funding goal for the C4C initiative is $7 million over the next five years.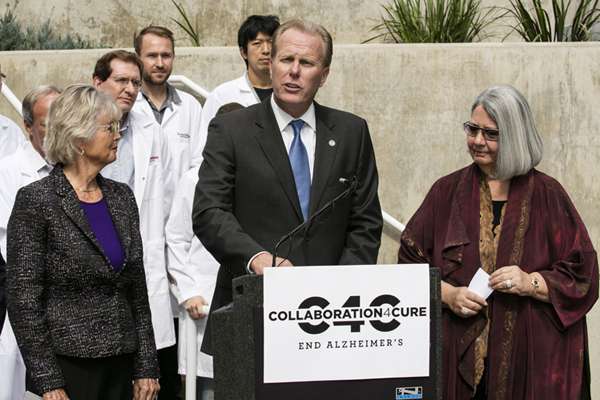 Oct. 2015, County Supervisor Dianne Jacob, Mayor Kevin Faulconer & Darlene Shiley announced 8 world-renowned local researchers selected for C4C drug discovery projects.
Alzheimer's San Diego

The City of San Diego

Darlene Shiley

Sanford Burnham Prebys Medical Discovery Institute
La Jolla Allergy and Immunology

The Scripps Research Institute

The Salk Institute

UCSD
How will the money be used?
In partnership with the Alzheimer's San Diego, drug discovery projects will be reviewed and approved by an esteemed panel of doctors and scientists. The criteria on which projects will evaluated will be thorough and rigorous, with an emphasis on collaborative, translational research.
Help fund San Diego research and take an active role in the progress of finding a cure! Help find a cure today. 100% of funds raised through Collaboration4Cure will go to supporting San Diego research.