Help spread the word!
You don't have to write a check to make a difference. The COVID-19 pandemic has impacted us all…after all, that's why Rides4ALZ is going virtual this year. You can make an impact at zero cost by helping to raise awareness for the event and for the 84,000 San Diegans living with dementia.
Find sample Facebook, Twitter, and Instagram posts below, along with some images you can download and share. Feel free to use as-is, or to personalize with your own perspective. Thank you for your support!
Facebook
Click here to find us on Facebook >>
Sample post #1:
On July 18th I will be taking part in Rides4ALZ – a 108-mile motorcycle ride that supports the 84,000 San Diegans living with Alzheimer's or another dementia. I ride for [insert personal connection here]. I would like to invite you to join me, and to donate to this cause if you can. Thank you! Learn more: www.alzsd.org/rides
Sample post #2:
Did you know: @Alzheimer's San Diego helps more than 25,000 every year – completely free of charge? When you donate to Rides4ALZ, you ensure services like caregiver education, support groups, and memory screenings stay at $0 cost to the community. Every dollar raised stays in San Diego County. Click the link below to support me as I ride to make a difference. [Insert personal fundraising link here]
Twitter
Click here to find us on Twitter @AlzheimersSD >>
Please use the hashtags: #ALZstrong #Rides4ALZ
Sample tweet #1:
On July 18th I will be taking part in #Rides4ALZ! All proceeds benefit @AlzheimersSD to support local families & #Alzheimers research. Join me or donate today if you can >> www.alzsd.org/rides #ALZstrong
Sample tweet #2:
There's nothing like getting on your #motorcycle & feeling the sun on your face – even better when you're riding for a great cause! That's what #Rides4ALZ is all about. Join me to ride for local #Alzheimers support & research. Please give if you can >> [insert personal fundraising link] #ALZstrong
Sample tweet #3:
Did you know: @AlzheimersSD helps more than 25,000 every year – completely free of charge? When you donate to #Rides4ALZ you keep services like caregiver education, support groups & memory screenings FREE. Please support me as I ride to make a difference >> [Insert personal fundraising link here] #ALZstrong
Image options (right click to download and save):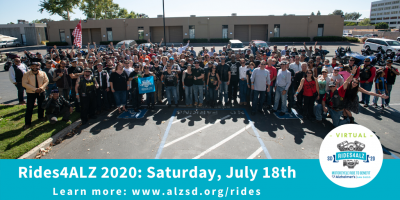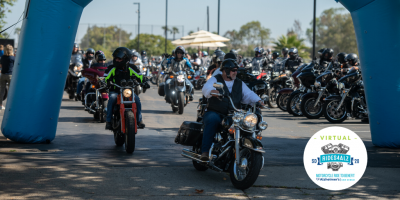 Instagram
Click here to find us on Instagram @AlzheimersSD >>
Please use the hashtags: #ALZstrong #Rides4ALZ
Sample post #1:
Throwback to last year's #Rides4ALZ! Hundreds of fellow bikers came together to ride more than 100 miles and raise money for Alzheimer's support and research. This year, I'm excited to participate in the virtual ride on July 18th with @alzheimerssd once again. Learn more: www.alzsd.org/rides #ALZstrong #motorcycleride #givelocal #charity
Sample post #2:
On July 18th I will be taking part in Rides4ALZ – a 108-mile motorcycle ride that supports the 84,000 San Diegans living with Alzheimer's or another dementia. I ride for [insert personal connection here]. I would like to invite you to join me, and to donate to this cause if you can. Thank you! Learn more: www.alzsd.org/rides
Image options (right click to download and save):