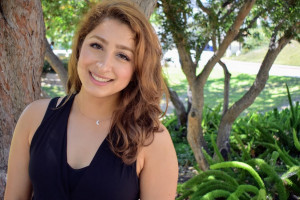 By Kara Jacobsen
When Mina Nilchian was looking for work, she wanted to find an organization that was making a real impact. She happily has found her home and purpose at Alzheimer's San Diego.
Mina is from the Bay Area. She graduated from San Diego State University with her Master's in Social Work in May of 2018. She says she is excited to be a part of a team whose programs are constantly evolving in response to the needs of the community. 
"Alzheimer's San Diego sounded interesting because there are so many different programs," she explains. "It wasn't just one single thing — it's about the education, the family support, the research focus, and how the leaders are always innovating."
RELATED | Notes from a Social Worker: Embracing the Unexpected Life
Mina's favorite part about working with the families here is when she is able to see the joy on their faces during social activities.
"It's just such a free-spirited environment — it's a place where you can do nothing wrong," she says.
Mina loves how both care partners and people with memory loss are able to feel welcomed and free from judgment in this uplifting environment. It's a warm place where you don't have to worry about saying or doing the right thing. People who are going through similar challenges are able to connect with each other, helping both caregivers and those living with dementia see they are not alone.
Ultimately, Mina wishes to share this one piece of advice: "Whether we have a diagnosis or not, whether we have memory loss or not, we all want to feel dignified, we all want to feel important, we all want to feel capable, and we all want to feel loved and that doesn't change just because someone's brain doesn't work the way ours does. A lot of times so many of our questions could be answered if we could take a moment to recognize those needs and understand what we could do to make a person feel like those needs are being met."
Need support? Talk with a compassionate social worker like Mina by calling 858-492-4400.