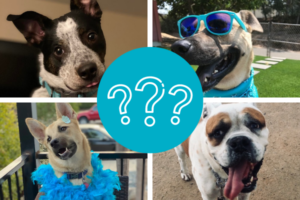 NOTE: Voting is now closed. We will share the winner shortly!
We asked, and you answered. Thank you to everyone who submitted photos for this year's Walk4ALZ Pet Mascot Contest! There was an overwhelming response, and it was difficult to narrow down the entries. But we are excited to share your four finalists.
This year's winner will:
Grace the cover of the Walk4ALZ save-the-date postcard
Be featured in a story on the Alzheimer's San Diego blog
Lead the pack and officially start the Walk4ALZ at Balboa Park on October 16th
Now it's decision time. Pick your favorite cover model below. Don't forget to mark your calendars for the Walk4ALZ on October 16th.
Click here to register for free >>
Please note: You can vote once every 24 hours until the poll closes on Friday, September 10th at 5 PM PST.