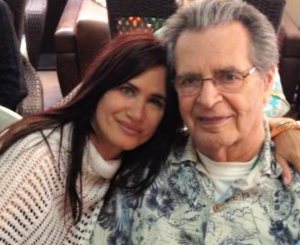 By Kara Jacobsen
Every Walk4ALZ team captain has a reason why they walk. For Randi Kolender-Hock, the reason is the person who raised her — her father, Bill Kolender, former San Diego Police Chief and Sheriff. Bill passed away about three years ago after a long battle with Alzheimer's. However, his legacy still lives on today, as Randi and her team honor his life by supporting this cause.
"It means the world to me that people want to remember my dad," Randi says, "and that they remember him with humor and love and such integrity."
Bill Kolender served the city of San Diego and the law enforcement community for nearly half a century. At one point, he was named the oldest sheriff in California and one of the oldest in the country. He planned to retire in 2011 when his term finished but stepped down after he was diagnosed.
One of those who had the pleasure of knowing him is Alzheimer's San Diego Board Member and current San Diego County Sheriff Bill Gore, who met him when he was a teenager. Randi is so grateful for Gore's commitment to finding a cure remarking, "as busy as he is, he truly cares, and that strikes a deep chord with me."
Randi has been involved with Alzheimer's San Diego for seven years. She believes finding a cure is just around the corner, and it is our job to not sit back, but to see what we can do as a community. She practices what she preaches – Randi and her fundraising partner, Roberta Flynn, are currently on the leaderboard as a top-5 fundraiser.
Randi says she's learned how important it is for the money raised by San Diegans to stay in San Diego to support the local community. She hopes that message will inspire younger generations.
"We need to stand together…we can make a loud difference," she says.
Click here to support the Roberta Flynn & Randi Kolender Stellar First Responders walk page. Also, check out the William B Kolender Sheriff's Museum in Old Town named in Bill's honor.