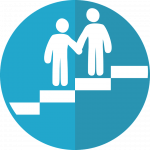 Coping with Caregiving is a 6-week series to support dementia care partners. In this innovative program, you'll learn new techniques and dig deeper into topics including the changing brain, building a support team, planning for the road ahead and identifying the missing pieces.
The series is led by Alzheimer's San Diego social worker Rebecca De Campos, MSW. She'll be a familiar face to anyone who's participated in our Support and Discussion Groups!
Rebecca describes Coping with Caregiving as the link between a support group and an education class.
"We identify specific coping skills and strategies that maybe we wouldn't have as much time to explore during a support group, while still providing an added layer of education from a class," she explains.
Registration is required to sign up for Coping with Caregiving. To learn more, contact Rebecca De Campos at 858.966.3303 or rdecampos@alzsd.org.