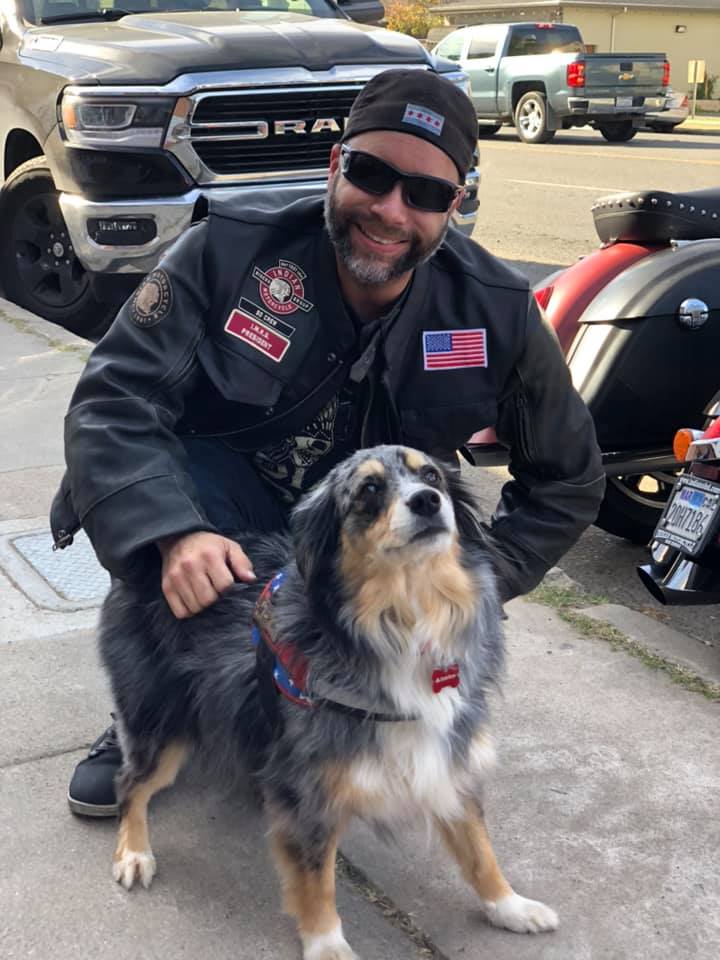 By Noelle Woolway
Meet Charlie Ruiz. This longtime rider will be part of Rides4ALZ this year. Keep reading to find out about his bike of choice, and why he wanted to be a part of this event.
Q: When did you start riding and what was your first bike?
A: I rode for a few years when I was very young in Puerto Rico, mainly dirt bikes. About five years ago, I decided to get back on two wheels and wanted to start fresh, so I took the Motorcycle Riders Safety Course and started renting bikes and see what felt good and comfortable at the time. Being a bit older, I gravitated more towards the street and cruisers, which were more my speed at this stage. I eventually found my way to my first Indian Scout 60, and I have been on Indians ever since. For some reason, I have always gravitated towards motorcycle. The idea of experiencing the road, and traveling on two wheels – it's amazing. 
Q: What are you riding today?
A: Today I am in a 2017 Indian Chieftain Limited.  I like my bike so much. It has the perfect combination of the classic Indian stylings with the curved bags, while having plenty of modern touches like the smaller front wheel and an incredible Infotainment center.  I have looked at many bikes, but my Indian is still the best fit for me.
Learn more about Rides4ALZ 2019 >>
Q: What is your favorite part about riding? 
A: Well, it's an interesting thing that happens for me when I'm on my bike – it is the most present and in-the-moment I can get. If I need a break from whatever is happening in my daily grind, when I get on the bike and I put on my helmet (and I wear a full face helmet always), it's like the world stays outside of that helmet. For however long I'm on that bike, I am just there, ever-present, and the outside worries or issues are left behind. 
It may sound counter-intuitive as there is so much to think of and be aware of when on a bike (the traffic around you, trying to forecast what other drivers are going to do, planning your lane changes, routes, where to go in case of an unexpected emergency in your lane), but that forces you to be very in the moment and really in the motorcycle. It's a really fun type of therapy for me.  Plus the idea that solitude inside that helmet, but knowing that I have a whole community of riders that are right there with me, it's an incredible feeling. There is something so fun when you encounter a rider on the road. You can't see his or her face. You don't know them at all – all you know is that they are on two wheels just like you are. And then that left hand drops and you both wave at each other with that simple wave that says: "I see you, nice bike you're riding. Safe travels!" I'm really smiling like a kid whenever that happens inside my helmet. It's as if it's Christmas every day for me when that happens, and I just snuck downstairs early and caught Santa sneaking out and he gave me the peace sign before leaving.  
Q: Why are you excited to be part of Rides4ALZ?
A: Our home dealer, Indian Motorcycle of San Diego, headed by our CEO Tim Broadhead, and our group, the San Diego Chapter of the Indian Motorcycle Riders Group, are dedicated to supporting local organizations that have a deeply meaningful impact in our community. Alzheimer's San Diego is a great example of local people doing amazing and important work, which we want to continue to support through our partnerships. Rides4ALZ is a perfect fit with two things we are incredibly passionate about – having a positive impact in our San Diego Community, and riding motorcycles.
Q: How are you connected to the cause? 
A: The disease has touched some close friends and families, which have exposed me to the challenges this condition presents for families. This exposure has cemented my desire and commitment to be a positive influence in whatever way I can for this cause. And if my Crew and me will help by doing something we truly enjoy, we are more than glad to be a part of it. 
A: Why is it important to you to support Alzheimer's San Diego? 
Q: I believe that we as a community, not only the biker community, but our San Diego community, exemplify the values of optimism, service to others, and helping our fellow man in their time of need. This is a perfect opportunity to walk the walk. This is our way of saying: "We see you, we hear you, we are here for you, you are not alone and here is my hand." So here we are. Let's ride!
Join Charlie and 150 other riders at Rides4ALZ 2019! Click here to learn more & register >>