Serving the San Diego community
Our Mission: To provide San Diego families with care and support, while advancing critical local research for a cure.
We are the go-to local resource
We are innovating and expanding services that truly make a difference in the lives of people suffering from Alzheimer's disease— and the loved ones who care for them. More information on local programs and services.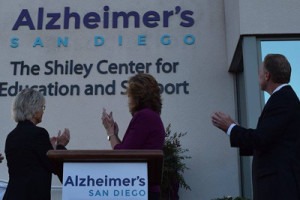 San Diego Mayor Kevin Faulconer and County Supervisor Dianne Jacob were on hand to celebrate the community launch and sign unveil of Alzheimer's San Diego on December 15th, 2015.
Our History
In late 2015,  the Board of the San Diego Chapter of the Alzheimer's Association® announced their decision to separate from the National Alzheimer's Association®. Alzheimer's San Diego, an independent local organization was formed in order to best serve those affected by Alzheimer's and dementia in San Diego. The new entity, under the local team you know and trust, has taken over the programs and partnerships that the community has relied on for more than 35 years.
The decision to split from the National Alzheimer's Association®  was necessitated when the National Alzheimer's Association® voted to consolidate the independent chapters into a single nonprofit entity controlled from its Chicago headquarters.
The San Diego Board strongly believed that the takeover would have severely jeopardized the San Diego chapter's ability to provide the quality and level of service the chapter has provided for more than three decades. The local governing board and all local decision making would have been turned over to individuals thousands of miles away in Chicago and all funds raised in San Diego would be sent out of our local community.
Alzheimer's San Diego is steadfast in its mission to provide local families with the kind of innovative and compassionate support services that they need and deserve. As an independent organization, 100% of donations to Alzheimer's San Diego will stay here in San Diego. 
Shelita Weinfield, President, brings 30 years' experience in the local nonprofit world and a deep passion for helping families to her leadership role at Alzheimer's San Diego.
There are nearly 65,000 San Diegans with Alzheimer's or another dementia, and more than 150,000 loved ones who care for them. Shelita is committed to the organization's legacy as the best local resource for San Diego families dealing with this terrible disease, and to supporting local research for a cure.