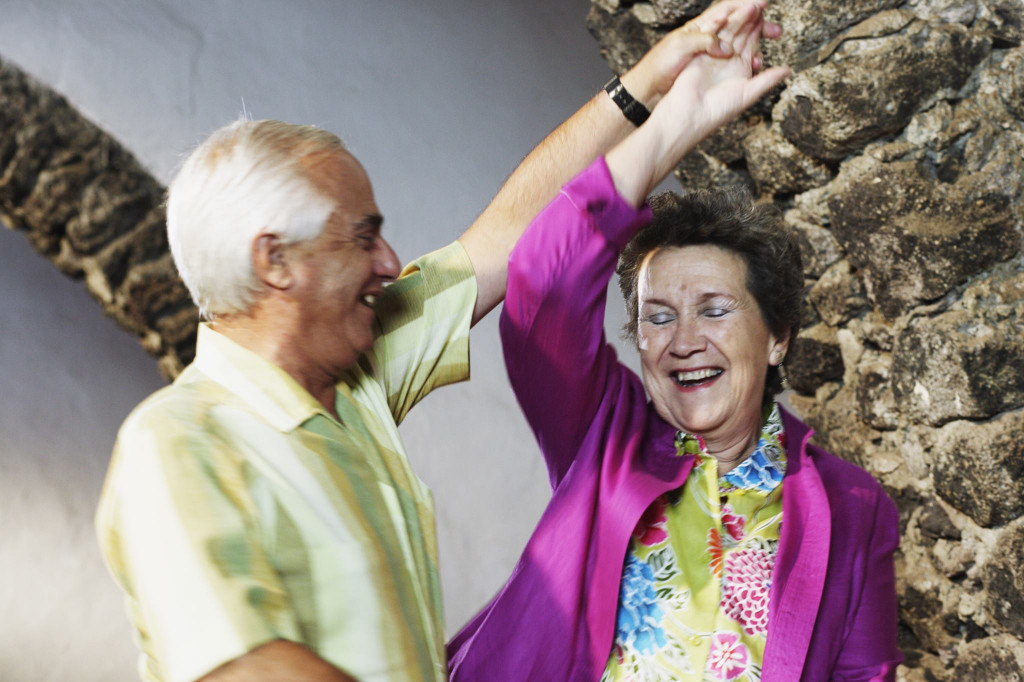 By Kara Jacobsen
Things looked a little different than usual at a recent class at Alzheimer's San Diego – and sounded different, too. Laughter filled the education room, as more than 20 dementia caregivers came together to learn about…improv.
This innovative class, led by Education Director Amy Abrams and local improvisation experts Chris Nielson and Vanessa Wilde, may seem a little unorthodox. But it's actually a perfect fit. 
It was created after Amy attended an improv workshop, and realized how many of the techniques could also be applied to caregiving. Dementia caregivers are often required to think on the spot and come up with creative answers. At times, they may need to dive into a new reality to meet their person where they are  – just like improv actors.  
The class began with Amy talking about the importance of active listening.
"As dementia progresses, it may become harder for someone to communicate. But as human beings, we all want to feel like we're being heard," she said. "By getting creative, you can make sure the person you're caring for feels validated."
Related to those concepts, Chris and Vanessa explained the common improv principle of responding with "yes, and…" rather than "no, but…". 
When communicating with the mindset of "yes, and…" caregivers are actively joining in on the moment and connecting with their person. That could mean turning a routine bath into fancy spa time, or exploring new details in an often-retold story.
RELATED | Check out our latest classes & workshops
Amy stressed that learning to use these techniques will probably be an imperfect process – and that's okay!
"There are times when, as a caregiver, you get stuck, say the wrong thing, or just slip up completely when trying to improvise how to respond," she said. "But often, the meaning behind what both you and your person are saying is more substantial than the words."
Because knowing what to say is tricky, another key takeaway from the workshop was to still celebrate moments  of so-called failure. 
To demonstrate, the class broke into two groups to play a game called "Zip, Zap, Zop". When one person said "zip" the person next to them said "zap", then the next person said "zop"…and around the circle it went. 
As you'd imagine, there were verbal slip-ups along the way! But instead of feeling embarrassed or ashamed, all participants took that moment to raise up their hands and rejoice in the mistake by shouting "arugula"! Caregiving can have a lot of these "arugula moments" – and they should still be celebrated.
RELATED | Notes from a Social Worker: (BLEEP) happens!
Another exercise focused on how saying "no" when someone is speaking – both non-verbally and directly – can create negative feelings and reactions. People partnered up into groups of two. One person told a random story, while the other person both verbally and non-verbally communicated "no" to everything they were saying. Then, the exercise was flipped. 
The person retold the story, but this time the listener validated them with the message of "yes". This reinforced how good it feels to be validated when you're speaking, and how to work through negative reactions in conversations.
"Overall, I hope people left with a new set of tools in their caregiving toolbox," Amy said, "and with the knowledge that there can be joy even in our mistakes."
Do you want to explore new caregiving techniques? Check out our upcoming class calendar by clicking here, or chat with one of our dementia experts by calling 858.492.4400.