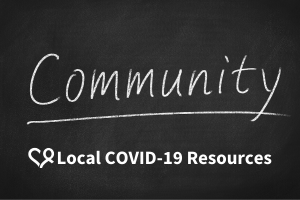 There have been a lot of changes in the San Diego community due to COVID-19 (coronavirus). As organizations are adjusting to this new normal, Alzheimer's San Diego is carefully tracking important local resources.
We've put together a comprehensive list for your convenience. Keep reading to find out about local grocery stores with modified hours for seniors, meal delivery, transportation, adult day care, temporary cancellations, and other vital social services.
HOT-MEAL DELIVERY:
Jewish Family Services:

JFS is providing drive-thru food distribution, home-delivered meals, safe parking and migrant shelter, as well as emergency funds. They are offering their on-the-go rides for grocery shopping/medical appointments only. Other programs are being held over the phone, but their day program, support groups, and home safety programs are still suspended. You do not need to identify as Jewish access services. Call 858.637.3210.

Mama's Kitchen: Home Delivered Meals are offered to those diagnosed with a critical illness. To qualify, you must have a medical provider fill out a referral form, which is followed by an intake call before they can begin delivery. Open from Monday through Friday 10 a.m. – 4 p.m. For more information, please contact Mama's Kitchen at 619.233.6262 or email them at
clientservices@mamaskitchen.org.
Meals on Wheels:

They are operating as normal, but increasing volunteer numbers to help with meal delivery. Contact them at 619.260.6110.

Monica & Milano Sliwa: They shop and deliver in the San Diego area to seniors 65+ who are unable to shop for themselves. They speak English, Chaldean, Arabic, and Assyrian Neo-Aramaic.
Email: milanosliwa21@gmail.com
Mountain Health:

They are offering discounted meals delivered to seniors, 60+, who live in either Alpine, Campo, Jacumba, Boulevard, or Potrero. Eligible seniors will not be denied for their inability to pay. They will also deliver to those under age 60 with a required fee. Contact them at 619.445.6200 ext. 500.
FOOD DISTRIBUTION:
GROCERY/FOOD DELIVERY:
RELATED | 9 cognitively stimulating activities you can do at home
GROCERY STORE SPECIAL HOURS:
Aldi: Seniors and those with compromised immune systems are allowed TTh 8:30-9:30 AM.
Albertsons:

6-7 AM for seniors & others at risk.

Baron's Market: 8-9 AM for seniors 65+ at most locations. Check link for your location's hours

.

Big Lots:

Seniors and vulnerable people are allowed during the 1st hour of business. There is also curbside pickup available.

Big Saver Foods: Seniors 65+ are allowed M-Sun 7:30-8 AM.
Cardenas Market: Seniors, disabled, caregivers, and first responders are allowed M-Sun 7-8 AM.
Costco: Seniors 60+ (no guests) are allowed TTh 8-9 AM.
Dollar General:

Seniors and vulnerable people are allowed during the 1st hour of business.

Food4Less: Please call the store for more information as hours differ based on the store location.
Gelson's: Seniors 60+, people with disabilities, and caregivers are allowed 7-8 AM a

t PB, Del Mar, and Carlsbad locations.

Jimbo's: Seniors 60+ and disabled persons are allowed M-Sun 8-8:45 AM.
Military Commissaries: Naval Base Commissary North Island Commissary, Miramar MCAS
Commissary & Imperial Beach Commissary: Seniors allowed 30 Minutes prior to store opening, no guests allowed, 100% ID check. *Please verify normal hours.
Northgate Gonzalez Market Chain:

All eight locations are open for ages 65+ and disabled customers M-Sun 7-8 AM.

Ralph's: Seniors and disabled persons are allowed M-Sun 6 AM- 7:30 AM
Safeway: Seniors, pregnant women and those with compromised immune systems are allowed T-Th 7-9 AM.
Sam's Club: Seniors and those with compromised immune systems or disabilities are allowed T-Th 7-9 AM.
Seaside Market: Seniors 65+ are allowed M-Sun 7-8 AM.
Smart & Final: Seniors are allowed M-Sun 7:30-8 AM.
Stater Bros: Seniors 65+ are allowed M-Sun 7:45-8 AM.
Super A Foods: Seniors 65+ are allowed M-Sun 7-8 AM.
Target:

Seniors and vulnerable people are allowed Tues & Wed during 1st hour of business.

Trader Joe's:

Seniors are allowed M-Sun during 1st hour of business.

Vallarta:

At the Escondido & National City locations seniors 65+, pregnant women, and those with disabilities are allowed M-Sun 7-8 AM.

Vons:

Seniors and vulnerable people are allowed 6-7 AM.

Walmart: S

eniors 60+ are allowed 1 hour before opening on Tuesday.

Whole Foods: Seniors 60+ are allowed 1 hour before opening.
TRANSPORTATION:
FACT (transportation):

FACT is coordinating FREE county-wide transportation to seniors through April 15th. Call them at 888.924.3228. They are open Mon-Fri 8 AM-3 PM.
RESPITE/CARE:
GLENNER Adult Day Program (Encinitas & Town Square): Day program for people living with dementia. Open at 25% capacity with safety measures such as required mask usage, social distancing, and contactless dropoff. They are still offering support for families via phone, email and our new telehealth dementia care navigation service GLENNERCARE™. For questions and/or to enroll in GLENNERCARE™, please call 833-770-CARE or email GLENNERCARE@glenner.org
Southern Caregiver Resource Center:

SCRC has suspended all in-person contact, including counseling, support groups, and classes. Their team is working remotely and able to provide phone or video support. Both respite programs still providing in-home support, unless/until vendors suspend services. Contact them at

858-268-4432.
BUSINESS AID:
GENERAL SERVICES:
2-1-1

: is the primary point of contact for all county services (community, health, housing, nutrition, disaster services). They are also providing information on free COVID-19 testing.inter Individuals who are currently receiving Supplemental Security Income (SSI) are now eligible for food stamps (SNAP). Call 2-1-1 to apply.

California Immigrant Youth Justice Alliance: COVID-19 Resources for Undocumented Californians
Interfaith Community Services: Providing emergency food, housing/shelter, showers/laundry services, behavioral health, face masks etc. Accepting drive-thru donations of food/supplies, staff will pick up from the car.
ElderHelp:

They have increased volunteer capacity and volunteers and staff are collecting and delivering groceries and essential items to seniors. The office now functions as a food pantry. They are still providing friendly check-in calls to reduce isolation and anxiety among homebound seniors. Contact them at 619.284.9281.

OASIS: Oasis has gone virtual and has launched FREE uplifting daily classes. No registrations are required; people can access these daily freebies from our website. Contact them at 619.881.6262.

PsychArmor:

Here is the list of resources put together by PsychArmor to assist our Military and Veteran caregivers and their families, as well as everyone else that can use a helping hand during these extraordinary times. This resource list includes virtual field trips, online education, and even

some quarantine-friendly recipes to try out.

Sharp Resource Center:

Sharp is connecting clients/families to community resources by telephone. No education classes are available. Their office is closed for now, and all services are being provided by phone at 619.740.4214.

UCSD, Shiley-Marcos Alzheimer's Disease Research Center:

They are developing a resource sheet for clients who need items from the store. Support groups are being held through Zoom. Otherwise, all other programs in-person are closed. Contact 858.822.4800 for more information. Click the link for their resource guide.

VetAssist Program:

Assists senior wartime veterans and their surviving spouses to access the Aid & Attendance pension to pay for in-home care services. Our program costs our clients nothing out of pocket. Call (562) 552-1319 for more information.
MISCELLANEOUS:
Live Well San Diego: Live Well @ Home is a free resource to help community residents find tips and strategies to stay healthy in both mind and body while staying at home. Activities are organized by age group and topic to help you find the right tools to match your needs.
SDG&E

is urging customers who are struggling to pay their utility bills due to financial hardships stemming from the coronavirus to call its Customer Contact Center at 1.800.411.7343 to make payment arrangements. Learn more by clicking the link.

Pharmacies

: Click the link for an updated list of local pharmacies that will make home deliveries to older adults sheltering in place.

Nutrition and Fitness Resources This resource guide comes from the county.
UCSD's Sanford Institute and the Compassion Institute have come together to offer daily online streams and recordings of mindfulness and compassion sessions to provide support to those affected by COVID-19.
CANCELLATIONS/SHUTDOWNS:
24/7 HELPLINES/HOTLINES:
*Note: This resource list will be continually updated for accuracy. Please contact the organizations directly with any questions.