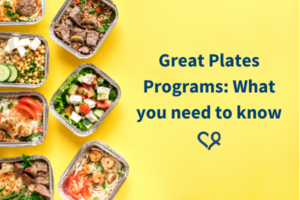 Eat well – for free – thanks to The Great Plates Programs. These special programs deliver delicious meals from local restaurants to older adults and those with disabilities or health conditions at $0 cost to them, so they can stay safe at home.
The government funds used to pay for the meals not only help those enrolled in the program, but also support San Diego restaurants and the local economy during this critical time. There are two separate programs to serve those most at risk during the COVID-19 pandemic.
Great Plates Delivered:
Serves older adults 65+ and those 60-64 with certain health conditions
Provides 3 meals per day for FREE
Initiated by Governor Newsom, and supported by FEMA, state, and local funds
Great Plates 2.0:
Serves adults of all ages (18+) with health conditions or disabilities
Provides one hearty meal per day for FREE
Initiated by the San Diego County Board of Supervisors and supported by local allocation of CARES Act funds
RELATED | Coronavirus: San Diego Community Resources
Eligibility:
Following federal requirements, these temporary programs are open to older adults and adults of all ages who have an underlying health condition or disability that makes it difficult to prepare or obtain food.
These programs are intended to fill a gap and serve those who are not eligible for federally funded programs, such as CalFresh (income must be between $24,981-$74,940 for a single household and $33,821-$101,460 for a two-person household).
Click here to apply for one of the programs or call Aging & Independence Services at (800) 339-4661 and select option 7 during regular business hours to learn more. If you do not qualify for the Great Plates programs, please call 2-1-1 to discuss additional food resources that may be available to you.