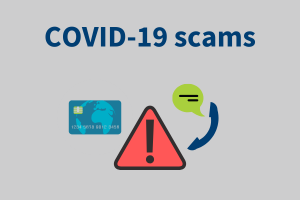 UPDATED 1/8/2021: The FBI is warning the public about several new scams concerning the COVID-19 vaccine. Criminal fraudsters are wasting no time taking advantage of the vaccines being rolled out.
In early January, people already reported receiving emails, messages, and robocalls from scammers claiming to be from government agencies. Some even promised they could deliver the vaccine within days for only $150. It's important to know you most likely will not be asked to pay to get the vaccine during the public health emergency. Also, you cannot pay to get early access to it.
Here are some common warning signs of fraud:
Advertisements or offers for early access to a vaccine upon payment of a deposit or fee.
Requests asking you to pay out of pocket to obtain the vaccine or to put your name on a COVID-19 vaccine waiting list.
Offers to undergo additional medical testing or procedures when obtaining a vaccine.
Marketers offering to sell and/or ship doses of a vaccine, domestically or internationally, in exchange for payment of a deposit or fee.
Unsolicited emails, telephone calls, or personal contact from someone claiming to be from a medical office, insurance company, or COVID-19 vaccine center requesting personal and/or medical information to determine recipients' eligibility to participate in clinical vaccine trials or obtain the vaccine.
Claims of FDA approval for a vaccine that cannot be verified.
Advertisements for vaccines through social media platforms, email, telephone calls, online, or from unsolicited/unknown sources.
Individuals contacting you in person, by phone, or by email to tell you the government or government officials require you to receive a COVID-19 vaccine.
The FBI recommends you do the following to avoid getting scammed:
Consult your state's health department website for up-to-date information about authorized vaccine distribution channels and only obtaining a vaccine through such channels.
Check the FDA's website (fda.gov) for current information about vaccine emergency use authorizations.
Consult your primary care physician before undergoing any vaccination.
Don't share your personal or health information with anyone other than known and trusted medical professionals.
Check your medical bills and insurance explanation of benefits (EOBs) for any suspicious claims and promptly reporting any errors to your health insurance provider.
Follow guidance and recommendations from the U.S. Centers for Disease Control and Prevention (CDC) and other trusted medical professionals.
If you believe you have been the victim of a COVID-19 fraud, immediately report it to the FBI (ic3.gov, tips.fbi.gov, or 1-800-CALL-FBI) or the Department of Health and Human Services Office of Inspector General (tips.hhs.gov or 1-800-HHS-TIPS).
—
Con artists are appearing everywhere trying to capitalize on people's fear around the novel coronavirus, COVID-19. 
Currently, the Federal Trade Commission (FTC) and Federal Drug Administration (FDA) have issued seven warning letters to companies misbranded as being able to treat or cure COVID-19. The companies' products include teas, essential oils, and colloidal silver. Read more about the warning letters here. As a general rule, we strongly believe the best defense is to avoid supplying any personal information over the phone to unsolicited callers. Here are the types of known scams and general tips for avoiding them:
Grocery Scam: Seniors are approached by strangers at stores offering to shop and deliver their groceries for them. They will ask for money and their home address, but never  deliver or even set up an arrangement to deliver. Even more dangerous, they now will have the home address of the senior.
Testing Scam: Scammers may offer to test seniors or sell at-home testing kits. They may go door-to-door and quickly swab the senior's nose and then ask for money or they will call seniors and offer to come to their home gathering personal and financial information. They may also ask for payment over the phone offering to mail out an at-home test kit.
Cleaning Scam: Scammers may offer to clean and sanitize homes of seniors by going door-to-door or requiring prepayment over the phone. However, upon entering their home, they might harm the individuals, steal items, or steal personal and financial information.
Phishing Scam: Scammers may impersonate members of reputable government health organizations like the CDC (Centers for Disease Control) and WHO (World Health Organization) or private institutions through phone calls or emails. They might be trying to sell cures, vaccines, or unproven treatment for COVID-19 using verbiage such as "just announced", "FDA approved", and "pre-market". They also might claim the senior is "pre-qualified to receive money from the virus outbreak" asking for their social security number and other identifying and financial information.
App Scam: Scammers may create mobile apps that are advertised to keep track of the
spread of COVID-19 virus, but the app will actually download personal
information.
Investment Scam: Scammers may offer online promotions for products or services that can detect, cure, or prevent COVID-19 telling seniors to invest in the stocks of these companies claiming they are "immune" from the potential stock market crash.
Charity/Donation Scam: Scammers will ask seniors to donate money to fake charities.
They will offer to distribute valuable resources like medical supplies to those in need or to help support a fake company that is searching for products that prevent, detect, or cure
the virus.
Counterfeit Scam: Scammers will sell counterfeit items like sanitizing products, N95
respirator masks, and any other supply that are in high demand, but just pocket the money.
Here is how you can protect yourself:
Hang up on robocalls

. The recording might prompt you to speak to a live operator or offer to remove you from their call list but instead will bombard you with more robocalls

Fact-check information.

Scammers, and sometimes well-meaning people, share information that hasn't been verified. Before you pass on any messages, contact trusted sources. Visit

What the U.S. Government is Doing

for links to federal, state and local government agencies.

Know who you're buying from.

Online sellers may claim to have in-demand products, like cleaning, household, and health and medical supplies when, in fact, they don't. When shopping for necessary items like groceries, seek help from trusted businesses offering free delivery or ask a friend or family member.

Don't respond to texts and emails about checks from the government.

The details are still being worked out. Anyone who tells you they can get you the money now is a scammer.

Don't click on links from sources you don't know.

They could download viruses onto your computer or device.

Watch for emails claiming to be from the Centers for Disease Control and Prevention (CDC) or experts saying they have information about the virus.

For the most up-to-date information about the Coronavirus, visit the Centers for Disease Control and Prevention (CDC) and the World Health Organization (WHO).

Do your homework when it comes to donations, whether through charities or crowdfunding sites.

Don't let anyone rush you into making a donation. If someone wants donations in cash, by gift card, or by wiring money, don't do it.
RELATED | Coronavirus in San Diego County: Important updates
These same best practices apply to any Alzheimer's disease related products or Medicare fraud. 
According to the California Health Advocates: 
"Medicare now covers the complete costs of COVID-19 tests and the Centers for Medicare and Medicaid Services (CMS) has also just issued new guidance for Medicare Advantage and prescription drug plans regarding flexibilities to increase access to treatment and obligations of coverage when a state has formally declared an emergency. They also updated their guidance for nursing home visitations, and issued guidance for dialysis centers, home health agencies, hospice agencies and more. If you have questions or complications arise regarding coverage for any COVID-19 related treatments or tests, call your local Health Insurance Counseling and Advocacy Program (HICAP). If you come across a COVID-19 phone scam or other kind of scam, hang up and report it to our California Senior Medicare Patrol at 1-855-613-7080."