By Allison Cooper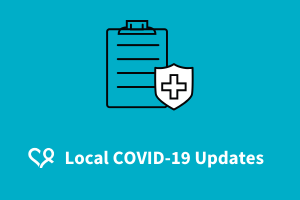 COVID-19 has largely impacted our world in the past few weeks. We are tracking important news and regulations that directly affect the San Diego community, and will be continually updating this page. Find the latest coronavirus-related updates below.
April 7, 2020: San Diego County officials report 1,454 positive COVID-19 cases and 12 new deaths since April 5th. Eight of these deaths were women and four were men, all with underlying health conditions. This brings the total deaths in San Diego County to 31.
Public health officer Wilma Wooten states that "the increase in deaths should be no cause for alarm as the number of deaths typically lag behind the number of positive cases reported".
April 6, 2020: San Diego County officials report 1,404 positive COVID-19 cases and no new deaths.
According to The Washington Post, individuals who drive to the beach during sunset will receive up to a $1000 fine or jail time. In Encinitas, 22 people were ticketed for sitting in their cars to watch the sunset near the beach. San Diego officials say that the stay at home order only allows people to leave the house for essential businesses — seeing the sunset is not a part of that. 
April 5, 2020: San Diego County reports 1,326 positive COVID-19 cases, 249 hospitalizations, and 19 total deaths.
Although the number of total positive COVID-19 cases is increasing each day, the incidence of deaths in New York has started to drop each day. Governor Andrew Cuomo of New York explains that it is too early to tell if this has any significance, but it does give us hope. Keeping up with the trends of COVID-19 in other states can help states such as California learn what can work. 
Source: MSN
April 4, 2020: San Diego County reports 1,209 cases of positive COVID-19 cases, 228 hospitalizations, and 18 deaths total.
April 2, 2020: San Diego County reports 966 positive cases and 16 deaths.
Effective this weekend, San Diegans in the county's effort to "change the trajectory" of the spread of COVID-19 among the community will now require businesses that interact with the public to use cloth face coverings for their employees starting Saturday. This includes grocery stores, pharmacies, and gas stations. Here is a video on how you can turn a bandana into a mask.
The general public will not be required to wear facial coverings, but will be urged to do so when out in public. Medical-grade masks should not be used.
The order was also amended to close all parking lots at park and recreation facilities in the county's jurisdiction. Public parks that remain open must have signs posted with a physical distancing plan and people who utilize the public space will be limited to "passive activities."
Open businesses will also be required to post physical distancing and hygiene procedures at the entrance to their business by Tuesday. Read the full article here.
April 1, 2020: San Diego County reports 849 positive COVID-19 cases, 158 hospitalized, and 15 total deaths. More than 11,300 San Diegans have been tested. Click here to determine the specific number of positive COVID-19 cases by area code in San Diego County.
City news Service announces that in San Diego a 13 million dollar contract has been created to Develop COVID-19 tests. This test is much faster than the original model of the COVID-19 test, delivering results in approximately 25 minutes. Initially, the number of cases reported will appear to be increasing rapidly. However, since COVID-19 testing is becoming quicker, case numbers will be reported faster. More information about the new COVID-19 test can be found here.
March 31, 2020: San Diego County reports 734 positive COVID-19 cases.
March 30, 2020: San Diego County reports 603 positive COVID-19 cases, 118 are hospitalized, and there are no new deaths since March 28, 2020.
KPBS announces that both the San Diego Zoo and the Safari Park will remain closed indefinitely.
The Del Mar Fairgrounds is planning a drive-thru food distribution for low-income families in need. There will be enough food for 1,000 cars. It will begin on Friday at 10 AM at 2260 Jimmy Durante Blvd., Del Mar, CA 92014.
March 29, 2020: San Diego county officials report 519 local cases of COVID-19. The San Diego Tribune states that an employee at an Albertson's grocery store in Escondido has now tested positive for COVID-19.
President Donald Trump has announced that social distancing regulations will extend until April 30th, 2020. More information regarding this extension can be found here.
March 28, 2020: San Diego County officials have reported 488 positive COVID-19 cases and 7 deaths due to COVID-19. KPBS states that this is 1.67% mortality rate. One of the deaths was a 25-year-old pharmaceutical technician with no known existing health conditions.
March 27, 2020: San Diego County reports 341 positive COVID-19 cases, 69 are hospitalized, and a total of 3 deaths. The most recent death due to COVID-19 was an 87-year-old woman. Currently, the age group 30-39 years old has the most cases with 89 positive COVID-19 cases. The next most affected age group is ages 20-29 with 66 positive COVID-19 cases. The city with the highest concentration of positive COVID-19 cases in San Diego County is San Diego with 207 positive cases.
A map is provided to demonstrate the concentration of positive COVID-19 cases in each area of San Diego County.
March 26, 2020: Restaurants are still open for takeout, but all dining areas are closed. Essential businesses remain open, but employees must continue to maintain a social distance. 
For senior citizens: various grocery stores allot one hour for seniors only before the store officially opens for the day. This enables seniors to have less interaction with the younger population and get the essential items that they need.
A larger list can be found here along with other essential community resources.
March 25, 2020: San Diego County now has a total of 277 positive COVID-19 cases, 59 which are hospitalized, and two confirmed deaths. The second death in San Diego County due to COVID-19 was a man in his early 70s with many preexisting conditions. The county's first two child cases have tested positive for COVID-19, both of which are infants.
The San Diego Tribune announces that all beaches and parks will be closed. This is being strictly enforced— no surfers, runners, or other leisure activities will be allowed near the boardwalk. Police are monitoring the area to tell people to go back home.
Grocery stores are getting stricter with regulations by only allowing a certain number of people to enter the store at a time. One employee is responsible for wiping down all the carts after each use.
March 24, 2020: According to the County of San Diego, there are currently 213 positive cases of COVID-19. Of these cases, there have been 34 hospitalizations and one death. Further information regarding the individual's cause of death will be later released, but the patient was said to be in his early 70s.
March 19, 2020: According to KPBS, there are 80 individuals in San Diego County who have tested positive and 11 have been hospitalized. No deaths have occurred at this time, but the number of positive COVID-19 cases has risen in the past few days.
March 19, 2020: The California State Public Health Officer and Director of the California Department of Health have announced an order to California residents to remain at home with the exceptions of essential necessities (i.e. groceries, doctors appointments).
RELATED | Coronavirus: San Diego Community resources
While COVID-19 appears to only be fatal to groups over 65, San Diego County reveals that a majority of the cases range from 18-64 years old making up 63 of the 80 cases. This information is intended to remind the younger population to take precautions and follow government guidelines even though they may not show symptoms.
It is recommended that everyone practice "physical distancing". The original term circulating is "social distancing" but with this implying you can't still stay in touch with family and friends, public health officials have transitioned to the term physical distancing meaning one should stay at least 6 feet away from other individuals while in public to reduce the chances of transmission. This recommendation is extremely important in a place like San Diego where gatherings are frequent.
RELATED | 9 cognitively stimulating activities you can do at home
March 17, 2020:
The County of San Diego issued a public health order, requiring the following:
All gatherings of 10 people or more are prohibited

Businesses must practice social distancing or work from home

It is highly recommended that individuals 65+ and immunocompromised individuals stay home

Restaurants may serve takeout orders but must close their dining areas

Bars and businesses that serve only alcohol will be closed
In San Diego, these mandates will be strictly enforced and individuals who do not refrain from social gatherings may receive a $1000 fine. For the full list of orders, click here.
Sources:
San Diego County Local Situation
San Diego County Health Office Orders
California Government COVID-19 Guide
Alzheimer's San Diego has cancelled all in-person services due to COVID-19 (coronavirus), but we are still available via phone at 858.492.4400, live chat, and email at info@alzsd.org.