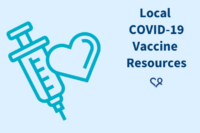 As the COVID-19 vaccine continues to roll out across San Diego County, it can be difficult to keep up with the latest information. We created this page to serve as a guide, and we will continually update this resource through the pandemic. You can also sign up for public health email updates directly from San Diego County by clicking here >>
UPDATE, 4/26/2021: The County is resuming use of the Johnson & Johnson COVID-19 vaccine following recommendations from the FDA, CDC, and California Department of Health. The pause was recommended after reports of six cases (out of 6.5 million) of a rare and severe type of blood clot following administration of the J&J vaccine. Following a thorough safety review, the FDA and CDC determined:
Use of the Janssen COVID-19 Vaccine should be resumed in the United States.
The FDA and CDC have confidence that this vaccine is safe and effective in preventing COVID-19.
The FDA has determined that the available data show that the vaccine's known and potential benefits outweigh its known and potential risks in individuals 18 years of age and older.
At this time, the available data suggest that the chance of TTS occurring is very low, but the FDA and CDC will remain vigilant in continuing to investigate this risk.
—
Available Vaccines:
Three companies are currently distributing FDA-approved COVID-19 vaccines – Pfizer, Moderna, and Johnson & Johnson.
Both the Moderna and Pfizer vaccines have been proven to be around 95% effective. The Johnson & Johnson vaccine is 66.3% effective at preventing COVID, but it is 86% effective at preventing severe COVID cases leading to hospitalization or death.
Moderna's vaccine is administered as two 100-microgram doses given 28 days apart. Pfizer's vaccine is administered as two 30-microgram doses given 21 days apart. The Johnson & Johnson vaccine is a one-time shot.
In clinical trials, side effects within 7 days of getting vaccinated were common but were mostly mild to moderate.
Side effects (such as fever, chills, tiredness, and headache) throughout the body were more common after the second dose of the vaccine, but most symptoms were mild to moderate.
At this point, which vaccine people are given will depend on whatever is available at the vaccine site they choose.

Who is eligible to get the COVID-19 vaccine in San Diego County?
You are eligible to receive a COVID-19 vaccination if you are 16 years of age or older and live or work in San Diego County. Click here for the full list and breakdown of the different tiers >>

I meet the eligibility requirements. How do I make an appointment to get the vaccine?
As of April 27th,

all County-hosted COVID-19 vaccine sites are open for walk-up, no-appointment-required vaccinations. The walk-up vaccines will be available while supplies last each day at that site. Click here for a list of County sites >>
The first recommended route to access the COVID-19 vaccine is to go through your doctor's office. If you do not have a doctor or other healthcare provider, call 2-1-1 San Diego to be connected with one.

Starting February 11th, a COVID-19 vaccination site is available

specifically for vulnerable seniors

at West PACE,

at 1706 Descanso Avenue in San Marcos. The appointment-only site will be open Monday through Friday from 7 AM-5 PM (including holidays). To make an appointment, call 2-1-1 San Diego.

I need help making an appointment!

If you are struggling to make an appointment, 2-1-1 San Diego can help. While 2-1-1 does not have access to any additional appointment opportunities beyond what's out there for the general public, they can assist those 75 years or older in making an appointment over the phone. This process usually takes at least 15-20 minutes. Simply call 2-1-1 to get started.
Why do some people have more adverse reactions than others during their appointments? Any tips for before/during/after the shot?

Reactions are a good thing and show the body is working well to produce antibodies. Drink lots of fluids after your appointments. Either arm is fine for the shot. But if you do experience discomfort, your dominant arm is more likely to be used/exercised. And this movement might actually help reduce pain and discomfort.
It is suggested you DO NOT take acetaminophen or ibuprofen in anticipation of potential vaccine side effects. No harm is caused if you take them, but the reason is they might mask symptoms of allergic reactions to the vaccines during the 15-30 minute window after the shot is administered.
Click here for 10 helpful tips for your vaccination appointments specifically for those with dementia >>

I am fully vaccinated. Do I still need to wear a mask or social distance?
The CDC has released guidelines for people who are fully vaccinated (meaning they received their final Pfizer or Moderna shot or their single Johnson & Johnson shot at least two weeks prior).
Fully vaccinated people can:
Visit with other fully vaccinated people indoors without wearing masks or physical distancing
Visit with unvaccinated people (including children) from a single household who are at low risk for severe COVID-19 disease indoors without wearing masks or physical distancing
Participate in outdoor activities and recreation without a mask, except in certain crowded settings and venues
Resume domestic travel and refrain from testing before or after travel or self-quarantine after travel
Refrain from testing before leaving the United States for international travel (unless required by the destination) and refrain from self-quarantine after arriving back in the United States
Refrain from testing following a known exposure, if asymptomatic, with some exceptions for specific settings
Refrain from quarantine following a known exposure if asymptomatic
Refrain from routine screening testing if asymptomatic and feasible
For now, fully vaccinated people should continue to:
Take precautions in indoor public settings like wearing a well-fitted mask
Wear well-fitted masks when visiting indoors with unvaccinated people who are at increased risk for severe COVID-19 disease or who have an unvaccinated household member who is at increased risk for severe COVID-19 disease
Wear well-fitted masks when visiting indoors with unvaccinated people from multiple households
Avoid indoor large-sized in-person gatherings
Get tested if experiencing COVID-19 symptoms
Follow guidance issued by individual employers
Follow CDC and health department travel requirements and recommendations
Click here for the full CDC advisory >>

Am I able to visit my person with dementia at their nursing home facility even if I'm not vaccinated?
Revised guidelines from the CDC as of March 10, 2021 are now allowing for "compassionate care visits" to seniors in nursing homes, even if residents have not been vaccinated, in recognition of the physical and emotional toll of isolation. Outdoor visits along with masks and distancing, however, are strongly encouraged to lower the risk of transmission. Contact your person's care facility to plan your visit in advance.

Click here to read the exact recommendations for visits >>

Common vaccine myths:
Here are some myths you might have heard through word-of-mouth or social media. Using information gathered from the CDC, Harvard Health, San Diego County, and resources from Live Well San Diego, we address some of these claims and explain the science behind them.
Myth #1: COVID-19 vaccines give you COVID-19. There are incidences of people who received the vaccine and then claimed they had COVID-19. It's important to remember there's a period of time before full immunity. It is possible these individuals were exposed and asymptomatic prior to their first dose. Or they were exposed during their incubation period which 7-14 days or 2 weeks between doses and after the final dose. Full immunity is not reached until two weeks after your second dose if you've received a two-dose vaccine.
Myth #2: Receiving a COVID-19 vaccine will alter your DNA and emergency use authorized vaccines in the U.S. contain the live virus that causes COVID-19. The goal of a vaccine against a virus-like COVID-19 is to teach the immune system what the virus looks like so the immune system can then attack the virus if it ever enters the body. Pfizer-BioNTech and Moderna are both mRNA (Messenger RNA) vaccines. The vaccines contain the following:
Active Ingredients – RNA
Lipids – Fatty molecules that form a protective capsule to aid in delivery, and protect RNA
Salts – help to buffer the vaccine and stabilize the pH to match the pH of our bodies
Sugar – protectant for lipids; keeps fatty molecules from being damaged at extremely cold storage temperatures
How mRNA vaccines work:
The scientist-generated mRNA sequence tells our cells to produce a viral protein of a specific structure. This then triggers the immune system to protect itself and produce antibodies if the COVID-19 virus were to enter our bodies.
Pfizer BioNTech and Moderna vaccines relate to RNA not DNA. They contain no live virus like other vaccinations for viruses such as the flu and Polio. These are breakthrough vaccines. These vaccines are safe and effective. They keep you from getting sick. However, science is still working on how well they prevent you from spreading it and how long they protect people.
More resources: