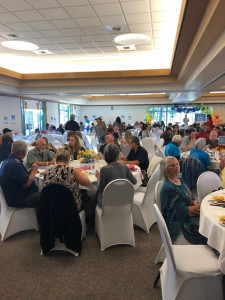 Alzheimer's San Diego depends on the generosity of people like you! We are entirely funded by the community, to support the community. In order for our life-changing services to remain free, we hold a variety of fundraising events throughout the year: the Visionary Luncheon & Auction, Rides4ALZ (an 108-mile motorcycle ride), and Walk4ALZ (the largest Alzheimer's walk in San Diego County)! 
However, we also depend on loyal supporters to host their own events as a vital fundraising source. Over the years, people have held everything from paint-and-sip events, to breakfast fundraisers, to selling bracelets at a local middle school. As always, 100% of every dollar raised goes to supporting local families and research for a cure. We chatted with our development coordinator, Noelle Woolway, to learn the best practices for creating your own fundraiser (also known as a third-party event). We hope this inspires you to give back in a new way! 
Q: What kind of events are you looking for?
A: Your creativity is the limit! We've had all types of fundraisers in the past. One fun event last year was a kickball game. Another year, someone bicycled across America to raise funds! Learn more by clicking here.
Q: What are the organizer's responsibilities?
A: The event organizer is responsible for planning and obtaining support for the fundraiser. Logistics, venue acquisition, sponsors, publicity, prizes, entertainment and staff would be the organizer's responsibility. For example, are you interested in putting on a golf tournament fundraiser? We would be able to assist you when it comes to promotion, upon approval, but would be unable to reach out to different golf courses to secure a location for your event.
GET STARTED | Host your own fundraiser
Q: What are the rules in terms of liability and cancellation? Are there certain types of events that aren't allowed?
A: All third-party events must comply with all federal, state and local laws, including fundraising rules and regulations. We do not allow any event that raises money on commission, involves the promotion or support of a specific political party or candidate or appears to endorse political activity, and/or involves direct solicitation e.g., telemarketing or door-to-door canvassing. Otherwise, we are open to any and all of your creative fundraising ideas! Just reach out to us and we'll answer any guidelines questions you might have.
Q: Will Alzheimer's San Diego reimburse me for any fees incurred for hosting my event? A: Alzheimer's San Diego is unable to hold any financial responsibility for third-party events. For example, if the event you are planning will be held at a location that requires a fee, Alzheimer's San Diego would not be responsible for covering that fee.
Q: Can Alzheimer's San Diego provide administrative support for my event?
A: Our staff can provide guidance and advice, but we are unable to provide administrative support for organizing an event.
Q: Will staff or volunteers attend the event to represent Alzheimer's San Diego? 
A: Staff and volunteer assistance may be available with proper planning and approval. 
For more information, please contact Noelle Woolway, development coordinator, at nwoolway@alzsd.org.