By Adrianna McCollum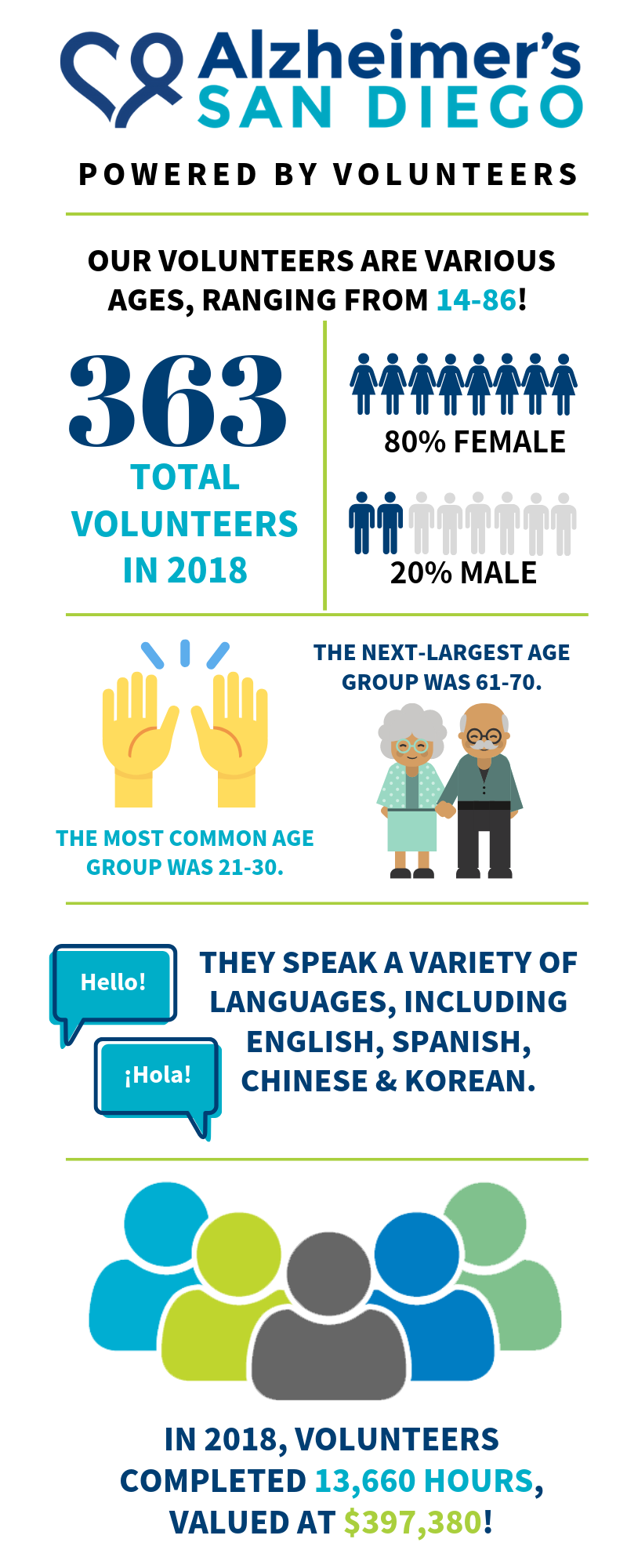 As the Director of Volunteer Programs at Alzheimer's San Diego, I am proud to oversee a program that is powered by over 350 volunteers from all over the county. Whether I'm mentoring a youth making their first foray into volunteering or working with an experienced octogenarian (who might have a few things to teach me), I am honored to be the support for our dedicated volunteers who give nearly 14,000 hours annually. That equals a donation of almost $400,000!
I have been in volunteer management for 15 years simply because I love working with volunteers. I've always felt that my job really is connecting people with their passions. In my five years with Alzheimer's San Diego, it has been a privilege to be a part of volunteers' experiences helping families and to share in their joys, successes, and even sadnesses, along the way. It's always exciting to meet with students who radiate eagerness to be part of something bigger, to learn, and to contribute. Many of these students have had such formative experiences with Alzheimer's San Diego that they have chosen social work or gerontology for their careers. And it is always rewarding to meet with older, experienced volunteers who trust me to guide them on their journey of service to the dementia community.
RELATED | See open volunteer opportunities
But my favorite thing about my job is getting to be one of the people behind-the-scenes who make the magic happen between Companion Volunteers and the families they support. The ALZ Companions Program provides much-needed breaks for care partners and socialization for the person living with dementia. But secretly it does so much more… it creates beautiful connections and relationships between volunteers and families, many of which are life-changing experiences. I would like to share a few of those with you:
"The time I've spent with Sam are moments I hold close to my heart. He's grown to be such a close friend to me (he's basically my best friend…), but that wouldn't of been possible without you. This has been an incredible journey for Sam and me, and I'm so grateful you were alongside us for the ride."
-Companion Volunteer, Austin
"She goes out of her way to help and I appreciate her can-do attitude. She's part of our family, really."
-Care partner, Barbara
"He always amazes me, and I'm learning a lot about how much a positive attitude can keep you healthy.  He's ALWAYS grateful for what he has in his life, and all the things he still can do. I really love that guy, so please keep him in your prayers."
-Companion Volunteer, Bill
This kind of success is due to the amazing people who choose to give their time and talents to Alzheimer's San Diego. Here's an inside look at our volunteer team:
Ages – youngest is 13; oldest is 86
Gender – 81% female; 19% male
Languages spoken – Arabic, Chinese, French, German, Hebrew, Italian, Japanese, Korean, Laotian, Persian, Portuguese, Russian, Spanish, Tagalog, & Vietnamese
Education levels – 31% some college, 27% college degree, 14% master's degree, and 5% doctoral degree
Every day I feel honored and privileged to be a member of the Alzheimer's San Diego professional team, and I feel the same way about being the support for the volunteer team. I am always amazed at how much heart, warmth, kindness, hard work, expertise, and dedication our volunteers bring to what they do. Whether they volunteer one day a year for Walk4ALZ or weekly in one of our many other programs, each person is invaluable and part of the whole that helps Alzheimer's San Diego achieve its mission every day.
Interested in becoming a volunteer? Contact Adrianna McCollum, Director of Volunteer Programs, at 858.966.3296 or amccollum@alzsd.org.