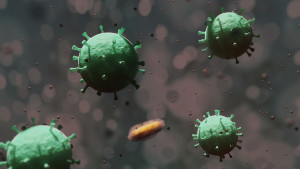 Older adults are already at risk of getting severely sick from COVID-19 (coronavirus) – early data shows people over age 60 appear to be the most vulnerable to the virus. Add dementia into the equation, and things can get even more complicated.
At Alzheimer's San Diego, we know that no situation is the same when it comes to caregiving. Our president/CEO, Eugenia L. Welch, has decades of experience in senior living and dementia care. We've tapped into her expertise to learn what steps Alzheimer's care partners can take – and the important questions to ask – to protect themselves and their person.
Q: Why are people living with dementia at a high risk for coronavirus?
ELW: Many people living with dementia (and older adults in general) also have other underlying medical conditions they are dealing with, such as heart disease, diabetes, etc. These health conditions can weaken the immune system. It also doesn't help that someone living with dementia may not be able to communicate how they're feeling, which can lead to delayed diagnosis and treatment. The short-term memory problems and impaired judgment that are often symptoms of dementia can make it harder for someone to engage in basic precautions such as not touching their face and wiping down shared surfaces, too.
RELATED | Online education resources
Q: What precautions should I take if I'm the full-time caregiver for someone with dementia at home?
ELW: Practice extreme caution. It's great to avoid putting the person with dementia in a risky situation (such as an airport or large group event), but that's not enough. You should also avoid these situations as the caregiver. After all, you could carry the virus home to your person, even if you don't get sick yourself.
Also, keep any potential communication limitations in mind. Can your person tell you they don't feel well? It may be up to you to pay extra-close attention to your their behavior and notice early signs of an infection. This goes beyond coronavirus, for things like the common cold, flu, and UTIs. Finally, it is your job to ensure your person practices good hygiene. It is unfair to expect them to remember whether they washed their hands, or for how long. Try to make hand-washing and bathing fun! (Watch this video for some useful strategies.)
RELATED | Coronavirus: What you need to know

Q: What precautions should I take if my person is in a facility?
ELW: First, DO NOT VISIT IF YOU OR ANYONE IN YOUR HOUSEHOLD IS SICK. I cannot emphasize this enough. This should always be the rule. The highest risk to people living in a care facility comes from visitors (family, visiting medical professionals, etc). As hard as it might be, you may need to limit visits. Keep in contact with the community/facility and follow their lead. Communities have precaution requirements set out by the Department of Health. Trust that the last thing the community wants is an outbreak of illness, and stick to their policies.

Q: What questions should I ask the facility and/or in-home caregivers?
ELW: Ask them to tell you exactly what precautions they have in place and how you can help support their efforts. If you have care workers coming into your home, it is fair to ask them to wash their hands when they arrive. You can also ask the home care company what precautions they have in place – that will help you to feel comfortable with them continuing to work in your home.
Q: What questions should I ask my doctor?
ELW: If you see any symptoms in yourself or the person you are caring for, call your doctor immediately. Be sure to ask for advice on what to do and where to go, not just about your symptoms. Do not simply schedule and appointment and go into the office. Calling first will protect yourself – and reduce your risk of exposure to others.
Give us a call to get expert guidance that works for your situation. We're here to help: 858.492.4400.