By Toma Battino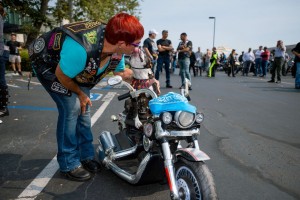 The normally quiet Alzheimer's San Diego office was filled with the sound of 155 engines as motorcycles pulled up to the parking lot on Sunday, July 15th. The lively group of bikers came together for the second annual Rides4ALZ, benefitting Alzheimer's San Diego.
Everyone was entertained as Chopper the Biker Dog, also clad in leather, rode around the lot. Before the ride began, a few bikers took to the podium to address the crowd. Many riders had friends or family with Alzheimer's or another form of dementia. After reflecting and remembering why they had gathered, it was time.
The peaceful morning air was cut by the coordinated revving of 155 motors. A countdown – and then they were off. The riders winded their way through 108 miles of San Diego County, passing through Lake Jennings, Imperial Beach and Coronado, before ending at AleSmith Brewing for the after party.
This event was only the second annual Rides4ALZ, but was an incredible success. This year, the original goal was to raise $100,000; the ride ended up raising more than $135,000! As always, 100% of every dollar raised will stay in San Diego County to help the 84,000+ San Diegans living with dementia – and to find a cure.
Not only did these riders raise money, they also raised awareness. The crowd of bikers was able to attract news stations like KUSI, NBC 7 and CBS 8. While this year's Rides4ALZ exceeded expectations, next year will be even bigger and better.
Alzheimer's and dementia have plagued our community for far too long. Thank you to the motorcycle community for coming out and raising funds and awareness to help those affected by this disease. It truly make a difference.