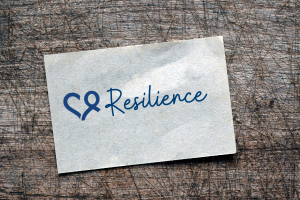 By Mina Nilchian, MSW
Not many of us had "getting through a global pandemic" on our list of worries. But here we are.
Doctor's visits cancelled. Classes postponed. Virtual meetings, video conferencing and online grocery delivery. Within a span of a few weeks, we all had to adapt to a new unexpected and anxiety-riddling way of life. 
Throughout all this, Alzheimer's San Diego has adapted pretty quickly to this new normal. We've shifted to online programming, are working from home, and are utilizing new tools and technologies to try, as best we can, to limit interruptions to our ability to support families.  Being connected to you is the bread and butter of why we exist. I know I can speak for myself and my colleagues when I say that as much as we have done to adapt to this new, temporary way of doing things…we really miss seeing you. 
RELATED | Virtual services & coronavirus updates
It's made me proud and inspired to see my colleagues jump right into action, finding ways to get through this. But the truth is, this resolve, this grit, this call to action – that's something that was inspired by you.
Managing dementia and the daily struggles it can sometimes bring is in and of itself a lesson in resolve. The unpredictability, the frustrations, even the isolation. A lot of these challenges are being magnified during these times.
I always say, we learn as much from the families that we work with as they do from us. This has been especially true in these times. In the last few weeks, we've learned a whole lot about what makes up that remarkable word – RESILIENCE. Here's what I've learned will help me bounce back, even in the darkest times.
Flexibility
The COVID-19 pandemic and the safety measures that came with it really changed our plans. This has meant being open to webinars instead of in-person classes or to do video-based calls with doctors in lieu of visits. Maneuvering new technology is challenging – but we're so thankful to all of you who have been so accommodating with us as we learn new ways of getting information and support out to you. Being open to new things – and being willing to brave the confusion and frustration that comes with it – can open a lot of new doors and new ways to connect. 
RELATED | 9 cognitively stimulating activities you can do at home
Experience
This may be the first time we've faced a challenge exactly like this, but many of the families we work with have survived other major life events. We've heard families talk about those experiences, and calling on some of the things they learned during that time to get them through this new challenge. A helpful way to get through some of the more anxious days is to ask: How have we endured tough times in the past? 
A Sense of Humor
As we always say at Alzheimer's San Diego – it's okay to have a good-natured laugh. In fact, we recommend it. Knowing when to take a break from worrying to laugh at yourself has helped you get through the tougher days of life, and will help you get through this. Whether it's bursting into giggles at a funny mistake you made, or pulling up your favorite puppy video on YouTube – we've learned from you that we all need a break from checking news headlines to have a good laugh.
RELATED | Notes from a Social Worker: (BLEEP) happens!
Hope
Even the experts are stumped as to when things will go back to normal, or what "normal" will even mean in the future. I wish I could tell you a specific date our office will reopen…but I can't. In the meantime, don't be afraid to take pleasure thinking about the little things we'll get back in the future. Coffee with friends. Bowling parties. A leisurely shopping trip. Strolling through the mall. Whatever those things are that were interwoven in the fabric of our everyday lives – thinking about better times is a source of solace.

Questions about caregiving? Get free support from social workers like Mina by calling Alzheimer's San Diego at 858.492.4400.