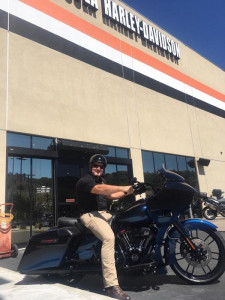 Meet Paul Loska.
He is a longtime motorcycle enthusiast who has supported Rides4ALZ, a motorcycle fundraiser for Alzheimer's San Diego, since the very beginning. After attending the first ride in 2017, Paul and his business partner, Carl Skaja, owners of ICON Utility Services, were so moved by the mission of Alzheimer's San Diego they decided to become official sponsors of the event. 
Due to the COVID-19 pandemic, Rides4ALZ will be a virtual event this year. While we're all disappointed we won't be able to celebrate together, Paul explains why it's still important to ride on July 18th.
Q: What would you tell anyone on the fence about doing the virtual ride?
A: Get off the fence and onto your bike and be a part of this great event involving awesome people. What do you have to do that is better than that?
Q: What is your personal connection to this cause?
A: I have watched family members and others struggle with this disease. It can really strip someone of their dignity and that makes me want to help out in whatever way I can. Most recently, I witnessed Alzheimer's caregivers exhibiting a level of care and love for a member of my family that astonished me. The love and compassion she received from these caregivers exceeded that given by her immediate family. In all honesty I felt convicted and ashamed of my own inaction and was motivated by their actions to get involved in some way. These people lead by example and motivated me to follow.
RELATED | Learn where the money from Rides4ALZ goes
Q: Why is it important for you to support a local organization?
A: I love San Diego. It is such a great place, with an incredible diversity of offerings. It is important for all of us to give some of our time and efforts to help make this place better. I am also fortunate to have grown up with a charitable and giving mother. She always said to me, "Son if you think you have got problems, start helping others!"
Q: With the current state of the world, what are your thoughts on riders still wanting to come together?
A: Bikers have always led the way in fundraising and giving back. Let's help lead San Diego out of this mess and show that love has no boundaries.
Click here to sign up for Rides4ALZ 2020 or to make a donation. To learn more about the ride and Alzheimer's San Diego, contact Noelle Woolway at 858-966-3310 or nwoolway@alzsd.org.