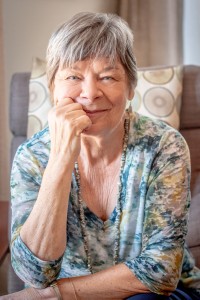 "Even when he couldn't remember my name, I knew he loved me."
Kathy Sebald lost her high school sweetheart, Tony, to dementia in 2016 – just a few weeks shy of their 53rd wedding anniversary. He was only 74 years old. While he eventually forgot her name, and that they were even married, his love for her was unwavering.
"He'd ask our kids, 'Will you take care of her?' – meaning me – even if I wasn't there," Kathy adds. "He was such a sweetheart."
While their life together was cut short, it was packed with adventure. A few years after they were married, Tony quit his job with IBM so they could join a volunteer group and move to Chile. While there, he taught at the Universidad Catolica de Valparaiso. They loved to travel, and explored Central America, Europe and the Caribbean, to name a few places.
Eventually, they settled down in San Diego. Kathy stayed home with their four children, while Tony worked at the University of California, San Diego, for nearly three decades as an electrical and computer engineering professor.
All was well until 2002, when Kathy started noticing Tony wasn't quite himself.
"He started forgetting appointments, he'd show up really late to things – he couldn't find his car," she explains. "I had to push him…he did not want to get his memory checked. He was so smart, and so good at hiding these things, the doctors were initially convinced I was wrong."
Unfortunately, she was not.
Tony was diagnosed with Mild Cognitive Impairment in 2003, which eventually developed into Alzheimer's disease and Lewy body dementia.
Despite this, Kathy knows she's one of the lucky ones. Their children are all local, so she had a strong support system as a caregiver. She says that even though her kids worked full-time and had their own families, they always found time to help.
She's also grateful the doctors at UCSD referred them to Alzheimer's San Diego, where Kathy and Tony dived into a number of programs. They regularly attended support and discussion groups, social activities centered around music and art, and community education classes.
They were one of the very first families to take part in the ALZ Companions respite program, too. Their Companion Volunteer, Lynn, spent time with Tony every week for almost two years so Kathy could take a much-needed break.
"Lynn was so wonderful. She probably saw every single war movie ever made," Kathy says with a laugh. "Tony loved spending time with her – and she really saved my neck. It was important to me to be able to go out and not feel like I had to rush back. It helped keep me sane."
Kathy says the support she received from social workers at Alzheimer's San Diego – and from other families she met there – helped her become a better care partner.
"Alzheimer's San Diego answered all of my questions about what was happening and what to expect. They even answered questions I didn't know I had," she explains. "I knew I could make it through this in the best possible way, without losing myself and losing him. I was able to see how many other people were dealing with this. No matter how difficult things got, I knew I was never alone."
Now, Kathy is proudly paying it forward.
She started volunteering with Alzheimer's San Diego in 2018, two years after losing Tony.
"I wanted to help in some way. I couldn't give a bunch of money, but I could volunteer my services."
She's adjusting well to her new life after spending 13 years as a care partner.
"It was an honor to take care of Tony. He was such a good guy, and he was a wonderful husband and father. I know if the situation were reversed, he would have wanted to take the best care of me," Kathy says. "I am who I am because of him. What we went through together made me stronger. Because of that, I'll always have him with me, until the day I die."
You can help local caregivers like Kathy know they're not alone. Click here to make a difference.