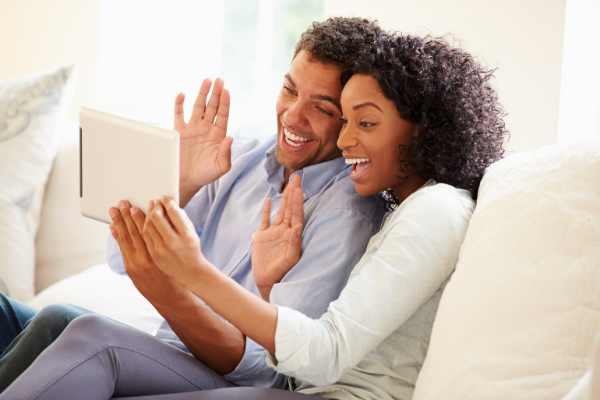 Many people are relying on video calls to stay connected with loved ones living with dementia during the COVID-19 pandemic. Whether it's Zoom, Facetime, Skype, or another free app – there is something for everyone.
RELATED | Need help with technology? Contact our Volunteer Tech Team >>
After months of using video calls to provide counseling, support groups, exercise classes, and volunteer visits at Alzheimer's San Diego, we've developed a set of best practices for creating meaningful connections. As many families will spend the holidays apart this year, we hope you can use these tips and find a way to bond across the digital divide.
1. Do some research. Before calling a friend or family member living with dementia, find out what they like to talk about. Think about where they were born, important people in their life, their career, hobbies and talents, favorite movies and TV shows, favorite music and songs, favorite foods and beverages…the list can go on and on! If you don't know the answers to some of these questions, reach out to the person's primary care partner.
This strategy has been especially successful in our Virtual ALZ Companions program. When a person signs up to get a virtual visit from a volunteer, we send them a questionnaire to fill out, which includes many of the questions listed above. Our volunteers use their answers to guide the conversation. It's incredible to see how excited people get to talk about their favorite things – and many care partners have said they've learned something new about their person after listening in!
Get matched with your own Virtual ALZ Companion >>
2. Share your screen. Many software options like Zoom allow you to share your screen. This is a great way to keep someone living with dementia excited and engaged as you go on a virtual adventure together. There are so many places you can explore, whether it's a live cam at a zoo or going on a breathtaking virtual hike. You can also play games or watch a movie together, or even reminisce by looking at old family photos. Another great resource is ZinniaTV, a website that has short videos made specifically for people living with dementia (the basic version is free to watch).
When sharing your screen, it's important to stay mindful of how the person is reacting to the changing images. You may want to narrate what they are seeing to help avoid confusion, or hit the "pause" button to check in, depending on how they are doing in the moment.
3. Get creative with music. Numerous studies have shown that music therapy can be an incredible tool for people living with dementia. Sometimes people who have lost the ability to speak can still sing along with a familiar tune. According to the Mayo Clinic, musical memories are often preserved because key brain areas linked to musical memory are relatively undamaged by Alzheimer's disease. Music can also relieve stress, reduce anxiety or depression, and reduce agitation.
There are many ways to use music during video calls. You can compile a playlist of favorite songs to sing together, or create a personal jam session if you can play an instrument. Several of our ALZ Companion volunteers have had wonderful visits where they danced together, virtually. In another instance, one family has started singing a few lines of a favorite song when their person's attention starts to fade, as a fun and gentle way to reorient and reengage her back into the video call. Music is a powerful way to connect, and the possibilities are as endless as your imagination.
RELATED | 9 cognitively stimulating activities you can do at home
4. Show and tell. Another idea when planning a virtual visit is to create opportunities for both you and the person living with dementia to do a "show and tell". Work with the primary caregiver in advance to have a treasured object like a family photo album ready on their side. Have something meaningful ready to show and talk about on your side as well. This is a great way to get an easy conversation started, and to learn more about the things you both value. It can also spark ideas for your next visit! For instance, if the person shares that they are a car fanatic, your next visit can be a virtual tour of the Lamborghini museum.
5. Have a backup plan – and be flexible. As we often say, when you've met one person living with dementia…you've met one person living with dementia. These suggestions are by no means one-size-fits-all. What works well during one visit may not be a hit the next time you call. When preparing for a virtual visit, have a few different topics and ideas ready to try. Follow the person's lead. If they are animated and engaged and want to chat for an hour, that's fantastic! If they are ready to wrap things up after 5 or 10 minutes, that's okay, too. By not forcing anything and going with the flow, it will be a much more enjoyable visit for you both.
Alzheimer's San Diego is here to provide free support for people living with dementia and those who care for them. Get strategies for your unique situation by contacting one of our dementia experts at 858.492.4400 or by clicking here. >>