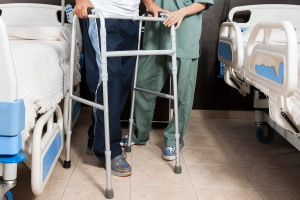 Social distancing can be especially difficult for those with someone in a long-term care facility. Because of the COVID-19 pandemic, many dementia care partners have been unable to see their person for weeks or even months. Other families may be struggling with the realization that they need professional care…but are unsure where to turn.
To help those with someone in long-term care – and those considering placement – we've put together this guide to answer common questions.
Is my loved one at a higher risk for COVID-19 in a facility?
By virtue of being in a community, and having to rely on others for assistance with the activities of daily living, the residents simply cannot truly self-isolate. When you consider this and the fact that someone living with dementia may not be able to fully understand the need for precautions during this time, there is likely an increased risk. However, there are also benefits to living in a facility. For instance, staff are trained in infection control procedures, and the risk of exposure from outside visitors is minimal. Keeping familiar routines, maintaining a consistent sleep cycle, and having access to regular exercise, activities, and social engagement may support the person's overall health – reducing the likelihood of infection-related complications. These are all important things to keep in mind when thinking about what is best for your person.
RELATED | Virtual services & coronavirus updates
What questions should I be asking to ensure my person's safety?
A few big questions come to mind. What is the community doing to protect against a COVID-19 infection? If an infection occurs among staff, how do they plan to handle it? What is the plan if there is an infection among residents? When did they last accept new residents?
Are facilities accepting new residents?
This is an individual company decision. Some are accepting new residents and some are not. The communities who are accepting residents should absolutely have extra coronavirus requirements prior to allowing a resident to move in. Be sure to ask the facility what their screening process is, and if testing is readily available to them.
How can I stay connected if my facility is not accepting visitors?
Phone calls, video chat and window visits are good ways to stay connected. And don't forget the value of a card or letter. These tangible things can be very reassuring – your person can carry it with them and read it again and again and fall in love with the note each time.
RELATED | COVID-19 scams targeting the elderly
When should I start thinking about bringing my person back home?
This is a very personal decision. One urgent factor may be your finances. Some people may have no choice but to move their loved one home if their income has been impacted by COVID-19. The other time to consider a move home may be at end of life. If your loved one is actively dying and you want to share that time with them, consider working with hospice services to move them home. This is not a decision to make in haste and deserves careful consideration before moving forward.
While this is meant to serve as a guide, we understand you may have more questions about your unique situation. For free and personalized support, call Alzheimer's San Diego at 858.492.4400. We're here to help!